Webinars
Register for and watch the latest RCoA webinars. We will be covering a wide variety of topics from Anaesthesia and Intensive Care using a range of formats.
Upcoming webinars
For future webinars please click here
For past webinar recordings, please scroll further down this page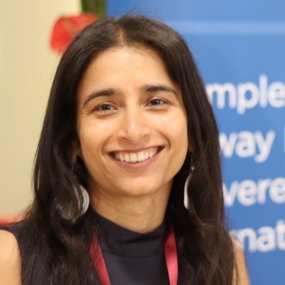 Dr Gunjeet Dua
Clinical content lead for webinars
Dr Gunjeet Dua, completed her anaesthetic training in South Eastern School of Anaesthesia and is now a Consultant Anaesthetist at Guy's and St Thomas NHS FT with a special interest in Education and Training. She has recently taken up the role as Clinical Content Lead for Web Events at the Royal College of Anaesthetists. Gunjeet is currently the Teaching Lead for Higher Training for South Eastern School of Anaesthesia, London and Education Lead for Anaesthetics and Perioperative Medicine at Guy's and St Thomas' Hospitals. She also developed and now actively leads the TAP Academy Practice Course for Post Graduate Nurses for Kings College London. Her recent role was planning and leading multidisciplinary training for all anaesthetists and theatre staff at Guy's and St Thomas' Hospitals during the COVID-19 pandemic.
Gunjeet is also is the Founder and Course Director for the renowned Guy's Advanced Airway Course which hosts about 350 international delegates every year. She was lead for the International Workshop Committee for World Airway Management Meeting (WAMM) at Amsterdam in November 2019 and DAS workshops in London 2017. Gunjeet has developed and regularly teaches on a number of national and international training courses. Gunjeet also developed an immensely popular hands on difficult airway course for ODPs and anaesthetic nurses which is now run annually at Guy's Hospital. Another of her recent initiative includes developing an in-situ multidisciplinary simulation training course for theatre teams focussing on human factors, communication, theatre safety and emergency protocols.
Past webinar recordings
Obstetric anaesthesia and COVID-19
This webinar is on obstetric anaesthesia and the changes - both good and bad - that have happened during COVID-19.
Target Zero
RCoA Vice President's Professor Mike Grocott and Dr Fiona Donald presented the College's first webinar on how we can all help Target Zero for work related infections in healthcare workers.