COVID-19 Resources
All of the College's COVID-19 related guidance and resources in one place
As the Royal College of Anaesthetists, we not only represent the largest single hospital specialty in the NHS, but also pain medicine, and intensive care medicine.
We therefore take our responsibility seriously to provide our combined membership of more than 24,000 Fellows and Members with the relevant support, information and guidance so they can safely and effectively care for their patients and themselves during this COVID-19 outbreak.
Latest guidance
Timing of Surgery after Covid-19
In response to new evidence and one year after the publication of the original guidance, the updated 'SARS-CoV-2 infection, COVID-19, risk assessment and timing of elective surgery' multidisciplinary consensus statement has been published.
The statement is endorsed by the Centre for Perioperative Care, The Royal College of Anaesthetists, Royal College of Surgeons of England, Association of Anaesthetists and the Federation of Surgical Speciality Associations.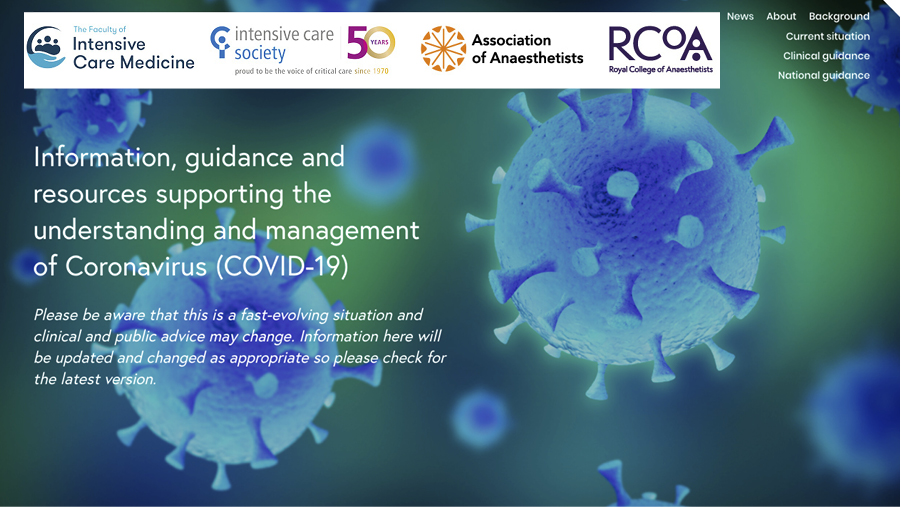 Joint ICM Anaesthesia clinical guidance
Working in partnership with the Faculty of Intensive Care Medicine, the Intensive Care Society and the Association of Anaesthetists, we created a joint COVID-19 guidance hub for anaesthetists and intensivists. During 2020 and 2021, this was the central hub for all new multidisciplinary guidance, information and resources to support the understanding and management of patients with COVID-19. Clinical guidance included that for airway management, obstetric anaesthesia, ICU/anaesthesia liaison and simulation/training. From 2022, no new guidance is being added to the joint hub and will be available here instead.