Less Than Full-time Training (LTFT)
To apply for LTFT, an anaesthetist in training needs to hold a national training number (it is possible to apply during the recruitment process) and be able to demonstrate that full-time training is not practical for them for 'well-founded individual reasons'. If this is for health reasons then an Occupational Health review is essential.
Applications for LTFT are made to the Deanery, following discussion with the educational supervisor, College tutor, and the training programme director (TPD); each school of anaesthesia has leads for LTFT at trainee and consultant level. The percentage of full-time hours that anaesthetists in training can work is agreed between the anaesthetist, the TPD, and the deanery. The College supports LTFT training in line with the arrangements set out in the Gold Guide.
Options for working LTFT include:
slot share – more than one anaesthetist in one slot on the rota and/or programme
in a full-time slot – reduced hours in a full-time post
Supernumerary – additional post but within training capacity; rare and requires (prospective) GMC approval.
For further information, each school of anaesthesia has leads for LTFT at trainee and consultant level; each hospital also has a Champion of Flexible Training. Contact the College's Membership Department to discuss subscription fees during periods of long-term leave and LTFT. An updated version of the TPD's guide to LTFT, developed in conjunction with the Association of Anaesthetists, can be downloaded below.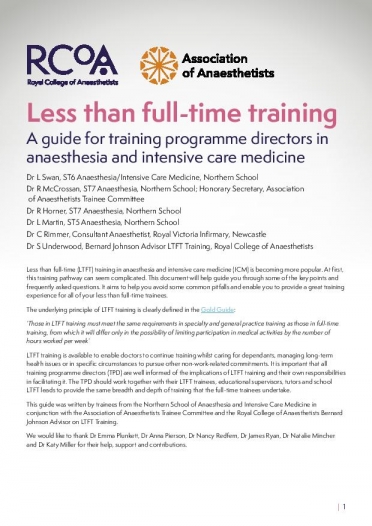 As at November 2015
In 1993 the EU Directive (93/16/EEC) stated that hospital training on a part-time basis should be at least 50%. In 2005, Article 22 of EU Directive 2005/36/EC changed this by deferring the decision on minimum percentage for part-time working to the competent authorities in each individual member state, as long as 'the overall duration, level and quality of such training is not less than that of continuous full-time training'. PMETB, as the UK competent authority at this time, chose not to set a minimum basis for LTFT training.
In 2011 the General Medical Council, as the current competent authority, undertook a review of the minimum percentage for LTFT and concluded this should be 50% and that only in exceptional circumstances should training be undertaken at less than 50% of full time.
The RCoA supports LTFT training in line with the arrangements set out in the Gold Guide.
The College continues to follow the advice from 'Principles underpinning the new arrangements for flexible training 2005' that LTFT training be undertaken on a pro-rata basis, including OOH as this remains an essential component of the anaesthetic training programme:
An opportunity to experience and develop clinical decision making
An opportunity to learn when to seek advice
A reflection of professional anaesthetic practice
Out of Programme
Training or Research (OOPT/R) - some or all of this time counts towards training time. Requires prospective approval by the Deanery, College, and GMC. Reports must be submitted to the College on return to training. Please find a copy of the application form below.

Experience (OOPE) - working in clinical practice that does not count towards training time. On return to training the anaesthetist must inform the College of the OOPE dates (email notification is acceptable)

Career Break (OOPC) - time out that does not count towards training. On return to training the anaesthetist must inform the College of the OOPC dates (email notification is acceptable).
Returning to training
Anaesthetists may be away from their normal working environment for many reasons and these periods of absence can extend from months to years. A return to training package should be designed with the educational supervisor.
Prior to planned leave (eg parental leave) it is important for the anaesthetist to meet with their educational supervisor to complete an interim progress report and make a return to training plan. The HR department should also be informed.
A personal return to training package can include:
KIT days or SPLIT days; these can be used for a reintroduction to clinical practice
a period of supervised practice prior to resuming on call commitment
a simulation return to anaesthesia course eg GASagain, School run courses.
On return to training, the anaesthetist should inform the Training Department so that we can recalculate a completion of training date.
The College runs a network for those interested in supporting Return to Training. If you wish to join the network please email your ,name, grade, and how you are involved with RTW.
Health Education England is working with the British Medical Association's Junior Doctors Committee, GMC, NHS Employers, and the Academy to address 10 key issues to enhance junior doctors working lives.
Flexibility in training is an important part of this work.