Obituary - Dr Colin Blogg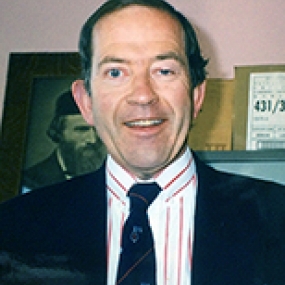 Colin Edward Blogg MB BS D Obst RCOG FRCA, aged 72 years.
Born 11 May 1943, died 28 August 2015. He leaves behind four children; Lucy, Jessica, Douglas, Henrietta and five grandchildren.
Colin Blogg was educated at Christ's Hospital, Horsham and The London Hospital Medical College. He received his anaesthesia training at The London and Northampton General Hospital and was appointed Senior Lecturer and Consultant to The London Hospital in 1974.
Colin was most interested in Obstetric Anaesthesia and teaching.
He was awarded the Association of Anaesthetists Prize in 1973 for best paper in Anaesthesia, the British Life Assurance Trust Prize in 1973 for the film "The Patent Airway", and in 1977 designed the emblem for the Obstetric Anaesthetists Association.
Between 1976 and 1979 Colin worked in Dallas, Texas, at Baylor University Medical Center helping to start a 24/7 Obstetric Anesthesia service, and helping to run the Certified Registered Nurse Anesthetists (CRNA) training program. As Clinical Assistant Professor to the University Department of Southwestern Medical School Colin lectured and taught Anesthesia Residents in the Operating Room.
Returning to the UK in 1980 Colin was appointed Consultant Anaesthetist to the Oxford Area Health Authority (Teaching). He was appointed Faculty Tutor, Deputy REA and then, in 1993, Regional Educational Adviser by the Royal College of Anaesthetists.
Colin sat on about 15 Committees including the Editorial Board of Anaesthesia, Radcliffe Oxford Postgraduate Educational Committee and Regional Intensive Therapy Committee Chairman.
Memberships included the Society for Obstetric Anaesthesia and Perinatology, Plastic Surgery and Burns Anaesthetists (Founder Member), The Worshipful Society of Apothecaries of London (Yeoman Freeman), the Anaesthetic Research Society and the Oxford Postgraduate Medical Association.
Colin somehow found time for cooking, skiing, and attended to student exercise as Vice-President of The London Hospital Rugby Football Club.
In association with John Forester, the author's son, Colin was a founder member of the CS Forester Society and was elected Honorary President. Colin enjoyed sailing and donated his time to helping young sailors with disabilities in the skills of watercraft.
Colin's boundless energy and enthusiasm did not prevent the remorseless progression of Parkinson's disease which blighted the last decade of his life. However, even this fatal malady failed to stifle his enduring sense of humour.
A good man, a fine physician and a loyal friend.