Dr Tri-Ratna Man Tuladhar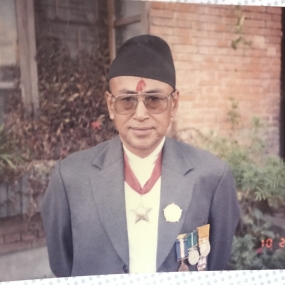 Dr Tri-Ratna Man Tuladhar MBBS FFARCS DA
22/12/1934 - 18/03/2020
Place of birth: Kathmandu, Nepal
Nationality: Nepalese
CRN: 559683
Education and qualifications
| | |
| --- | --- |
| General education | Durbar High School, Kathmandu (passed leaving certificate aged 14); Patna University, India |
| Primary medical qualification(s) | MBBS, Patna, 1960 |
| Initial Fellowship and type | FFARCS by Examination |
| Year of Fellowship | 1967 |
| Other qualification(s) | DA(RCP&S), 1965 |
Professional life and career
Postgraduate career
After early appointments in India / Nepal as a medical officer in Government service he came to the UK in 1963 to train in anaesthesia, acquiring both the DA and FFARCS (the second from Nepal to do so) while working in the London area at St Peter's, The London, King George, St James, St Stephen's, St Mary's and St Mary Abbot's Hospitals. Having obtained the Fellowship he returned to Kathmandu in 1967 to work at the Kanti, and later the Bir, Hospitals becoming senior consultant at the latter. After retiring from Government service at age 60 he worked at B & B Hospital and was Visiting Professor at Tribhuvan University Hospital.
Professional interests and activities
Dr Tuladhar was active not only in developing anaesthesia and its organisations in Nepal, but worked on the broader medical scene as well. He was president of the Society of Anaesthesiologists of Nepal from 1996-1999, senior vice-president of the Nepal Medical Association, registrar of the Nepal Medical Council and general secretary of the Nepal Tuberculosis Association. For his work he was received no less than eight medals (see photo) from the Nepalese Government.
Other biographical information
Married to Prem Lata, they had two sons, both medically qualified (one GP specialist in gastroenterology in the UK, the other a cardiothoracic surgeon in Nepal), and a daughter who is a senior economist with the IMF. A devout Buddhist, vice-president of Dharmodaya Sabha, he was also keenly interested in Kathmandu's cultural traditions, serving as vice-president of Ason Gunla Bajan.
Author and sources
Author:
Swayambhu Tuladhar (son)
Sources and comments:
[1] Personal knowledge [2] See also Obituary at BMJ 2020;369:m2117