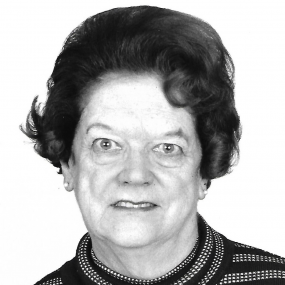 Dr Sheila Mary Anderson MBBS FFARCS MRCS LRCP DA
22/03/1914 to 10/04/1986
Place of birth: Not yet identified
Nationality: British
CRN: 715748
Education and qualifications
| | |
| --- | --- |
| General education | School not known; London School of Medicine for Women |
| Primary medical qualification(s) | MRCS LRCP 1937 |
| Initial Fellowship and type | FFARCS by Election |
| Year of Fellowship | 1953 |
| Other qualification(s) | MBBS, London, 1938; DA(RCP&S), 1941 |
Professional life and career
Postgraduate career
Precise information on her early career is lacking, but an early appointment was resident anaesthetist at the Royal Free Hospital, and she was also resident at Great Ormond Street Hospital (GOS) at the outbreak of WW2, and subsequently registrar there. From 1942, until the immediate post-war period, she worked for the EMS in London, at least some of the time at Atkinson-Morley Hospital. By 1948 she was anaesthetist to GOS, Moorfields Eye and St George's Hospitals (the neurosurgical unit at the latter), appointments she held until retirement in 1992.
Professional interests and activities
Although primarily a neuro-anaesthetist Sheila also published chapters on aspects of her other clinical activities. She was responsible for a number of innovations in paediatric anaesthesia, notably development of the scalp vein needle and an eponymous modification of Magill's laryngoscope, as well as a pioneer of opiate premedication in children. A founder member of the Association of Paediatric Anaesthetics of GB&I, she was also an enthusiastic member of the RSM Section and the Southern Society of Anaesthetists.
Other biographical information
Sheila was happily married, but sadly widowed, twice: first to Paul Sandifer, a neurologist at GOS; second to Stafford Northcote, a retired banker who introduced her to cricket; she continued to attend Lord's after his death. She also maintained a life-long friendship with Sir Ivan Magill, caring for him in his old age.
Author and sources
Authors:
Professor David Hatch & Dr William Glover
Sources and Comments:
[1] Personal recollection [2] Medical Directory [3] Obituary. BMJ 1986; 293: 273-4 [4] Photograph courtesy of the Medical Illustration Department, Great Ormond Street Hospital.