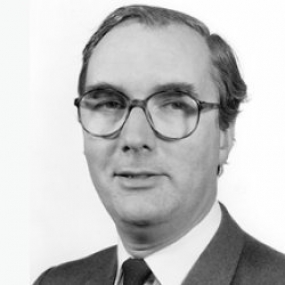 Dr Richard Hancock Ellis MBBS FFARCS DObs
11/09/1937 to 10/05/1995
Place of birth: Ongar, Essex
Nationality: British
CRN: 500012
Also known as: Dick
Education and qualifications
| | |
| --- | --- |
| General education | Chigwell School, Essex; London Hospital Medical College |
| Primary medical qualification(s) | MBBS, London, 1961 |
| Initial Fellowship and type | FFARCS by Examination |
| Year of Fellowship | 1967 |
| Other qualification(s) | MRCS LRCP, 1961; DObst, RCO |
Professional life and career
Postgraduate career
Early posts were as house surgeon, Greenbank Road Hospital, Plymouth, and house physician, The London Hospital, followed by obstetric house surgeon, Queen Mary's Maternity Home, London. Started anaesthetic training in 1961 and was sequentially SHO, registrar and lecturer, all at The London. He spent 1970 as a consultant with a special interest in cardiac anaesthesia at Groote Schuur Hospital, Cape Town, and followed this with a short period as consultant at Harare Hospital (then Salisbury, Rhodesia). Appointed consultant to St Bartholomew's Hospital in 1971, he became senior cardiothoracic anaesthetist in 1974, also worked at Homerton Hospital (all posts he held until his death), and undertook occasional visiting appointments in Lesotho, Sweden & Abu Dhabi. His private practice included anaesthesia for the investigation and surgical treatment of infertility.
Professional interests and activities
Dick's major clinical interest and commitment was anaesthesia for cardiac surgery in adults, and he also contributed to the administration of the hospital as honorary secretary of the Medical Council and member of the Medical Advisory Committee (1974-8). Elected to the AAGBI Council (1975-7), his main contribution was to the journal, Anaesthesia, as a member of the editorial board (1975-7) and sub-editor of the correspondence & news sections (1975-80). For the Faculty he was an examiner for the final FFARCS (1983-90), and was a council member of the RSM Section (1985-8). However, a growing interest was the history of anaesthesia, and he became well known as a lecturer (in demand at home and abroad) and author. Notable literary projects were the editing of the third volume of Sykes's 'Essays' (1982), and preparation of John Snow's casebooks for publication in (1994). A founder member of the History of Anaesthesia Society, he spoke at its first meeting (1986).
Other biographical information
Son & grandson of GPs, he married Elizabeth Price (an ICU nurse) and they had two daughters and a son. He served as a governor of his old school (1982-91).
Author and sources
Author: Dr Bob Palmer
Sources and any other comments: [1] CV in lieu of Boulton Form [2] Ancestry.co.uk [3] Obituary. BMJ 1995; 311: 626 [4] Boulton TB. Richard Hancock Ellis: An appreciation. The History of Anaesthesia Society Proceedings 1995; 17: 103-8. [5] Photograph courtesy of Dr David Wilkinson