Dr Raguppillai Gnanasuntharam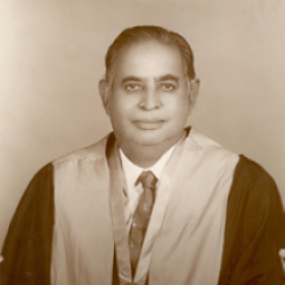 Dr Raguppillai Gnanasuntharam MBBS FFARCS DA
01/08/1926 to 11/01/2013
Place of birth: Innuvil, Sri Lanka
Nationality: Sri Lankan
CRN: 545936
Also known as: Gnana
Education and qualifications
| | |
| --- | --- |
| General education | St John's College, Jaffna, Sri Lanka; Jaffna Hindu College, Sri Lanka; University of Ceylon |
| Primary medical qualification(s) | MBBS, Ceylon, 1955 |
| Initial Fellowship and type | FFARCS by Examination |
| Year of Fellowship | 1963 |
| Other qualification(s) | DA(RCP&S), 1962 |
Professional life and career
Postgraduate career
Having started his anaesthetic training as house officer in the Ministry of Health in 1956, Dr Gnanasuntharam came to the UK, and is thought to have worked in hospitals in the Ladbroke Grove and Chelsea areas of London (more information would be welcome). He completed his PG training in 1964 and returned to Sri Lanka as consultant anaesthetist at Batticaloa General Hospital. In 1967 he moved to Ragama General Hospital and in 1969 to Colombo General Hospital (now the National Hospital of Sri Lanka) where he remained until he retired as senior consultant anaesthetist in 1986.
Professional interests and activities
Dr Gnanasuntharam had a major commitment to the training, education (specifically in the basic sciences) and career development of his young colleagues. Founder Council member (972), and later president (1982), College of Anaesthesiologists of Sri Lanka and a member of Board of Study in Anaesthesiology of the Post Graduate Institute of Medicine, University of Colombo 1979-1983.
Other biographical information
Continued to work in private practice after retirement from Government service, but activities restricted inceasinglt by arthritis. Eventually moved to Australia to be near his elder daughter.
Author and sources
Author: Dr Jayantha P Jayasuriya, FRCA
Sources and any other comments: Personal knowledge and information from his daughter who provided the photograph.