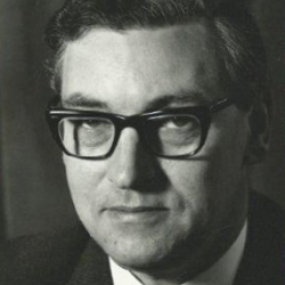 Dr Kenneth Owen Harrison MBBS FFARCS MRCS LRCP DA
13/03/1918 to 16/02/1996
Place of birth: Grimsby, Lincolnshire
Nationality: British
CRN: 503503
Education and qualifications
| | |
| --- | --- |
| General education | St James Secondary School, Grimsby; Worksop College (1931-3); Humberstone Foundation School, Cleethorpes (1933-5); University College, Hull (1935-6); St Bartholomew's Hospital Medical School, playing for the hockey team. |
| Primary medical qualification(s) | MRCS LRCP, 1941 |
| Initial Fellowship and type | FFARCS by Election |
| Year of Fellowship | 1954 |
| Other qualification(s) | MBBS, London, 1941; DA(RCP&S), 1943 |
Professional life and career
Postgraduate career
After qualifying Ken was SHO (1941-2), then registrar (1942-4) in anaesthetics at St Bartholomew's before seving in the RAMC as a recognised anaesthetic specialist in Burma, Italy, Belgium and India, rosing to the rank of Major and ending as Advisor in Anaesthetics to south-east Asia (1946-7). After demobilisation, in 1948, he was appointed to a supernumerary post-graduate post in Winchester and later in the year became a senior registrar there. First appointed a consultant in Grimsby in 1950 he returned to Winchester in 1956. He retired in 1982.
Professional interests and activities
A strong supporter of the concept of an ITU in Winchester, he was head of department from 1974 to 1976.
Other biographical information
Ken married Mabel Alice (known as Margaret) Marchant, and they had two children, Graham & Diana who became a consultant in palliatice care.
Author and Sources
Author: Diana Wilson (daughter) with help from Robert Palmer, John Bowen & Kate Davies.
Sources and any other comments: Personal recollections