Dr K A Thistle W P Jayawardene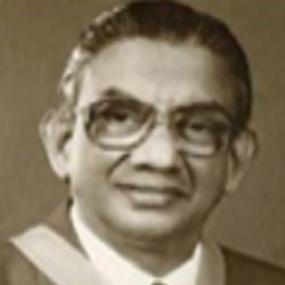 Dr K A Thistle W P Jayawardene MBBS FFARCS DA
09/11/1928 to 09/05/2019
Place of birth: Moratuwa, Sri Lanka
Nationality: Sri Lankan
CRN: 530800
Education and qualifications
| | |
| --- | --- |
| General education | St Thomas's College, Mount Lavinia, Sri Lanka; University of Ceylon, Sri Lanka |
| Primary medical qualification(s) | MBBS, Ceylon, 1956 |
| Initial Fellowship and type | FFARCS by Examination |
| Year of Fellowship | 1963 |
| Other qualification(s) | DA(RCP&S), 1962 |
Professional life and career
Postgraduate career
After initial anaesthetric training in Sri Lanka Dr Jayawardene came to the UK to further this and acquire the FFARCS. He worked in several hospitals in the London area including St Albans, the Whittington and St Charles, Ladbrook Grove, returning home at the end of 1963. During 1964-5 he was consultant at general hospitals, first Badulla, later at Kurunegala before being appointed to a group to establish open heart surgery in Colombo. They spent four months in the USA studying bypass techniques, and he was charged specifically with the design, implementation and management of the ICU, Sri Lanka's first, opened in 1968. He retired from these duties in 1988, but continued to work in a supernumerary role for another six years.
Professional interests and activities
As well as being part of the cardiothoracic anaesthesia team he worked to show that the specialty has roles beyond the operating theatre. He was consulted widely on clinical problems and lectured to trainees in medicine, surgery & forensic medicine as well as anaesthesia. He also helped establish ICUs in several other hospitals. In recognition of these services he was elected a fellow of the American College of Cardiology, vice president of the Sri Lankan Heart Association, delivered the S C Paul Oration to the Sri Lankan Medical Association, and was the first anaesthetist to be elected the latter's president (1991). He received the Vishya Prasadhini Award for his services to medicine and the country in general (1996).
He also gave considerable service to the specialty's organisations in Sri Lanka: examiner, MD (Anaesthesiology), part 1 (1981-2), part 2 (1983-95); two terms as chair, board of studies in anaesthesiology; board member, PG Institute (hon senior fellow, 2007); Sr Lankan college president (1983-5): elected its first fellow (2015).
Other biographical information
A gentle, compassionate, deeply religious man, and a silent philanthropist, away from medicine he served the Church of Ceylon, the Board of Governors of St Thomas's College, Mount Lavinia and the Board of Trustees, Deaf & Blind Schools, Ratmalana. Married, he had a son and a daughter. His unusual first name was a consequence of his parents' friendship with an English tea-planter of that name.
Author and Sources
Author: Subject, assisted by Dr J Jayasuriya
Sources and any other comments: Obituary, The Sunday Times of Sri Lanka, 19/05/2019. [2] Photo courtesy of the College of Anaesthesiologists & Intensivists of Sri Lanka