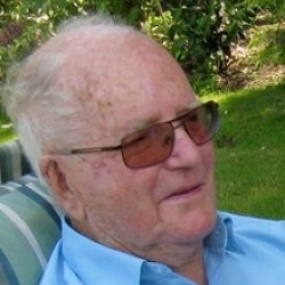 Dr John Walmsley Warrick MRCS LRCP FFARCS DA
02/08/1915 to 21/12/2017
Place of birth: Blackheath, London
Nationality: British
CRN: 533944
Education and qualifications
| | |
| --- | --- |
| General education | Blackheath & Sevenoaks Schools; King's College, London |
| Primary medical qualification(s) | MRCS LRCP, 1938 |
| Initial Fellowship and type | FFARCS by Election |
| Year of Fellowship | 1953 |
| Other qualification(s) | DA(RCP&S), 1944 |
Professional life and career
Postgraduate career
After early appointments of six months each as house anaesthetist and house surgeon (GU) at King's, he continued in anaesthesia there until 1940 and joined the Royal Navy. He served in Ceylon (3 years), the Isle of Man (2 years), and HMHS Isle of Jersey (a popular ship, it was 'duty free'!) at Scapa Flow (6 months). Spent a brief time at HMHS Barrow Gurney near Bristol before demobilisation when he returned to King's for a year as supernumerary registrar before spending three years as SHMO at St. Alfege's LCC Hospital, Greenwich. In 1950 he was appointed consultant in West Dorset, continuing in that post until retirement in 1977.
Professional interests and activities
An all round anaesthetist, John spent 27 years in a busy practice with frequent on-call. He had particular interests in chronic pain, the use of stellate ganglion block in Meniere's disease & tinnitus, and anaesthesia for peptic surgery, publishing on all these topics.
Other biographical information
Because of a business inheritance his grandfather changed his surname from Day Lewis, meaning that John is related to the poet Cecil Day Lewis and his actor son, Daniel. He married Betty Cooke, a nurse, in 1940 and they had three children: Peter, a chartered accountant born in Ceylon; Elizabeth Hoffpauir, a nurse born in King's under the care of Sir John Peel, and later an international dragon boat paddler for Canada; and Gillian Edwards, a housewife. After his wife died he reconnected with a former colleague, Renee (known as Tim) Fleury and they shared their remaining years together. John's interest in medicine, and the decision to study at King's, were very much influenced by its well known surgeon, Cecil Wakely, who was married to his family's neighbour. Wakely helped John with his early career and asked him to anaesthetise some private patients when he was back at King's after WW2. When he left Wakely gave him an envelope containing only a token £10, but the surgical registrar laughed and said "You're lucky, we usually get a post card"! The guitar was a life long passion, stimulated at age 15 when he heard Django Reinhardt play. He performed a range of music and was part of a trio which played in hospital concerts. His other great love was gardening and garden design, turning the field around his house into a place of peace and beauty. He was also interested in embroidery, water colour painting and carpentry.
Author and Sources
Author: Subject helped by son, Peyer, former colleagues David Andrew & Rodney Hebblethwaite, and Robert Palmer
Sources and any other comments: Personal recollections | Boulton form | see also article in September 2017 issue of RCoA Bulletin