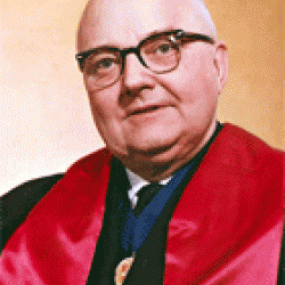 Dr Frankis Tilney Evans MBBS FFARCS FRCS DA
09/03/1900 to 26/08/1974
Place of birth: Forest Gate, Essex
Nationality: British
CRN: 715209
Education and qualifications
| | |
| --- | --- |
| General education | The Forest School, Walthamstow; St Bartholomew's Hospital Medical School |
| Primary medical qualification(s) | MRCS LRCP, 1921; MB BS, London, 1922 |
| Initial Fellowship and type | FFARCS by Election |
| Year of Fellowship | 1948 |
| Other qualification(s) | DA(RCP&S), 1935 |
Professional life and career
Postgraduate career
Evans's training was interrupted by WW1 service in the RNVR, but he returned to Bart's to qualify in 1921. At Bart's he was first a House Surgeon (1923), and then occupied a series of anaesthetic posts: Resident (1924), Senior Resident (1925), Assistant Administrator (1926) and Demonstrator in the Medical College (1927). As well as being appointed to the Bart's staff as an anaesthetist at a very early age he had major appointments at a large number of other London area hospitals including Brompton Chest (1927), St Mark's and the Royal Masonic (both 1935). He retired in 1965.
Professional interests and activities
Noted for his teaching on spinal & epidural techniques, and anaesthesia for children, Evans was an industrious author and editor with important contributions, in both capacities, to a series of significant textbooks. He also served the organisations of the specialty: President of the Section of the RSM in 1945, he was a member of the Foundation Board of Faculty and later its Dean (1955-8). He was elected FRCS in 1960.
Other biographical information
His WW1 service imbued a love of sailing and he was a member of the Royal Thames Yacht and Royal Cruising Clubs, his gregarious nature also leading him to join the Savage Club. In 1947 he was the Cantor Lecturer at the Royal Society of Arts, an organisation committed to enriching society through ideas and action. An ardent Freemason, he was a member of many lodges, and also sometime Master of the Worshipful Company of Tallow Chandlers. He was survived by a son (RN) and a daughter (a paediatrician).
Author and Sources
Author: Prof Tony Wildsmith
Sources and any other comments: Obituary. BMJ 1974; 3: 692, and I thank Dr David Wilkinson for reviewing the text and providing some additional information.