Dr Douglas Donald Currie Howat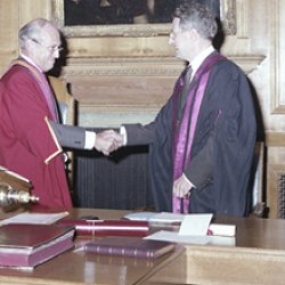 Dr Douglas Donald Currie Howat
10/01/1920 to 15/11/2006
Place of birth: Denholm, Scottish Borders
Nationality: British
CRN: 504834
Education and qualifications
| | |
| --- | --- |
| General education | Dulwich College, London taking 1st MB Examination from school, winning a scholarship to study medicine in London at King's College (1938-40) and St George's Hospital Medical School (1940-3). |
| Primary medical qualification(s) | MBBS, London, 1943 |
| Initial Fellowship and type | FFARCS by Election |
| Year of Fellowship | 1953 |
| Other qualification(s) | DA(RCP&S), 1946 |
Professional life and career
Postgraduate career
After house officer posts in Wimbledon and Slough he started his anaesthetic career as SHO at St George's Hospital. Passed the DA in 1946 and joined the RAF, serving at Cosford before being demobbed in 1948 and returning to a Senior Registrar post at St George's and Brompton Hospitals.
First consultant post, at a TB hospital in Nottingham, did not appeal and he returned south, initially to Woolwich, Lewisham & Maidstone before settling at St George's, also working at the Royal Masonic Hospital, and eventually retiring in 1984.
Professional interests and activities
On return to St George's he helped Charles Drew set up the first cardiac surgery unit, later working with Sir Rodney Smith in complex biliary and pancreatic surgery. He was chairman of the Regional Postgraduate Committee, and served the organisations of the specialty: President of the Section of Anaesthetics, RSM (1976-7); Treasurer, AAGBI (1969-74), Vice-President (1974-6) and Honorary Member (1986); for the Faculty he was Regional Adviser, Fellowship Examiner, Elected Board member (1967), Hewitt Lecturer (1977) and Vice-Dean (1979-81). Elected FRCSEng in 1984, he studied medical history after retirement: President of the History of Anaesthesia Society (1993-4).
Proficiency in foreign languages (see below) led to involvement in European affairs at an important time: in 1966 he worked with members of the RCP to advise on the implications of joining the then European Economic Community, and in 1973 was appointed to represent British anaesthetists on the Council of the European Union of Medical Specialists and chair the Anaesthetic Monospecialists Committee. He was deeply involved in the formation of the European Academy and chaired the Executive Committee of the World Federation of Societies of Anaesthesiology, also serving as its Vice-President (1993-4). He lectured extensively in Europe and the USA, and published widely.
Other biographical information
Born when his father was a GP in the Scottish Borders, the family soon moved to London via a short stay in Bradford. Considered a 'swot' and a 'loner' at school, he was a voracious reader throughout his life and enjoyed long journeys by himself by cycle or on foot.
He met his wife, Joan Overhall, when she was also at King's College, but reading languages.They had three children, Catherine (1944), David (1946) & Michael (1947), and Joan was a major influence on his professional life. It was she who insisted that he, as well as the children, studied the languages which were so important to his overseas activities, and when he became AAGBI Treasurer the nomination was for "Dr and Mrs Howat"!
Douglas was adept at establishing rapport with all sorts of people and was the man to send when diplomacy was needed, being completely imperturbable. As happy doing the mundane as the prestigious chores of his various posts, he never forgot that the care of his patients and liaison with surgeons were the primary duties of an anaesthetist, this perhaps being why, while he he held many offices, there were fewer Presidencies.
Author and sources
Author: Dr Aileen K Adams (2016)
Sources and any other comments: Lives of Fellows of the Faculty document (the self-completed 'Boulton' form) from 1988. Discussions with Mrs Catherine Sauzer (daughter) in 2006.