The Lay Committee: the patient's voice at the heart of the College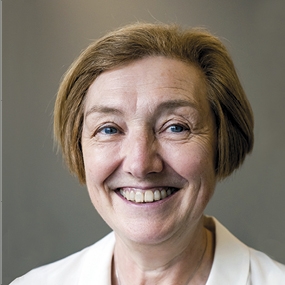 Pauline Elliott
Pauline Elliott, Chair of the RCoA Lay Committee
Pauline Elliott is the new Chair of the College's Lay Committee. Here, she recounts a chat with her oldest friend, Joe about her new role and whether he'd had his COVID-19 Vaccination.
'What does the RCoA actually do?' Joe asked me bemused.
Joe has never had an anaesthetic. In fact, despite being in his 60s, he has never even stepped into a hospital outpatient department as far as I know. That makes him a bit unusual (or maybe just lucky!) but none of us fits a mould, do we?
'Well…' I started slowly, playing for time while I got my head round an explanation. I started by explaining that the College is the professional body responsible for anaesthesia throughout the UK.
'The College focuses on ensuring the quality of patient care by maintaining standards of anaesthesia, critical care and pain medicine.'
'OK, sounds good,' said Joe. 'What's the Lay Committee bit about?'
'The College is committed to putting patients and the public at the centre of all its activities. It can't achieve its objectives without listening to what non-clinical people have to say about what it's doing and what it plans to do,' I explained. 'That's where the Lay Committee comes in.'
'There are 12 of us on the Committee. We're volunteers from all sorts of backgrounds. Some of us have clinical experience but you don't need it to do the role successfully. You just have to be enthusiastic about putting forward the patient perspective. You need an open mind, and you have to be prepared to speak up and challenge areas where you think the patient voice is not being heard. Sometimes you have to be tenacious to get your point across because everyone is focused on getting things done as quickly and efficiently as possible.'
'Got it,' said Joe. 'So what does the Committee actually do?'
'We get involved in different activities with clinical professionals and people from the College,' I explained. 'We're members of teams working on lots of programmes, like devising curricula for anaesthetists in training, setting and arranging exams, and supporting quality initiatives and research. For example, I'm the lay representative on the Board of the Faculty of Intensive Care Medicine. I've been involved in lots of things with them, from helping to judge a junior doctors' essay competition to supporting the development of patient information.'
'Which reminds me, working on patient information, especially ensuring it talks about what patients want to know and is written in plain language, is a really important part of the role of Lay Committee members. If you have a look on the College website, you'll see the information we've helped produce.'
'And you're the Chair of the Lay Committee. So what do you do?' queried Joe.
'Good question! I lead the Lay Committee and represent them on College Council which is the governing board for the whole College. I work with senior College staff to decide on future Lay Committee activities.
A couple of months ago we produced a strategic plan setting out our priorities for the year ahead. We want to increase our influence, while improving our communication and ways of working.
Supporting the College's drive to improve equality, diversity and inclusion is also really important to us. We're very keen to encourage people from all groups and communities to join the Lay Committee. If you know anyone who might be interested just ask them to get in touch at laycom@rcoa.ac.uk. I'm always happy to chat about the role.'
By the way Joe. Have you been to get your second vaccination yet?'
Pauline Elliott