Obituary - Dr Richard Harding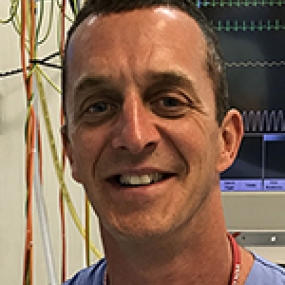 Richard was a Consultant in Anesthesia and Intensive Care Medicine, working for the Northland District Health board at Whangarei Hospital in New Zealand.
Richard qualified from Nottingham Medical School in 1993 and, after completing house jobs, decided to work in Brisbane, Australia where he stayed for just over a year before returning to the UK to embark on specialty training. During his specialty training Richard was based in the Yorkshire deanery. On gaining his CCT the pull of the Southern Hemisphere saw Richard journey back to Australia, where he spent a year working in Perth before crossing the Tasman Sea to take up a Consultant position in Dunedin, where a love affair with New Zealand began.
Richard then returned to the UK in 2007 to take up a Consultant post at the Hereford County Hospital where he became the Clinical lead for Critical Care the following year. Richard was instrumental in setting up the vascular access service in Hereford, and in 2009 became the clinical lead there for Organ Donation.
In 2013 he also took on a part-time role at the Queen Elizabeth Hospital, Birmingham, working in ICU, which he greatly enjoyed. In due course, the lure of the New Zealand lifestyle became too strong to resist, and in 2016 Richard moved to Northland with his wife Kate, a GP and hospice doctor, and their children Amy and Jake.
Richard began working at Whangarei Hospital in late 2016. He soon established himself as a valuable addition to both the Departments of Anaesthesia and Intensive Care Medicine. Again he found himself involved in Organ Donation, and began to initiate the process of accrediting the hospital for donation after cardiac death. He became a fellow of the College of Anaesthetists of Australia and New Zealand shortly before his death.
He threw himself into the Kiwi way of life, buying a boat, and taking up fishing and open water swimming. He was never happier than when he was walking his dogs with his family around the beautiful coastline of Northland. He loved travel, and took his family to Fiji, Japan and Australia while living in New Zealand.
Richard suffered from two episodes of depression in the last 18 months of his life. He died as a result of the second on 23 October 2017. He is survived by Kate and his children, his parents, his brother and sister and wider family, and his many friends and colleagues.