Coronavirus (COVID-19) - how we are responding
COVID-19 - how your College is addressing the viral outbreak
Updates & information on the College's activities and preparations for COVID-19.
As the Royal College of Anaesthetists, we not only represent the largest single hospital specialty in the NHS, but also pain medicine, and intensive care medicine.
We therefore take our responsibility seriously to provide our combined membership of more than 24,000 Fellows and Members with the relevant support, information and guidance so they can safely and effectively care for their patients and themselves during this COVID-19 outbreak.

View from the frontline of anaesthesia during COVID-19
The College is actively and regularly surveying our members to develop an up to date 'view from the frontline of anaesthesia'. This will help us to make the case for the resources anaesthetists need to look after their patients during the crisis, and their own physical and mental health.
The first 24-hour snapshot survey was conducted in mid-April. We are planning to repeat this sample audit regularly to benchmark progress.

COVID-19 Weekly Update
We have created a succinct weekly eNewsletter highlighting key new or revised clinical and national guidance, advice, information and support for managing COVID-19.
The update will be published and distributed to all College fellows and members every Wednesday as of 15 April 2020.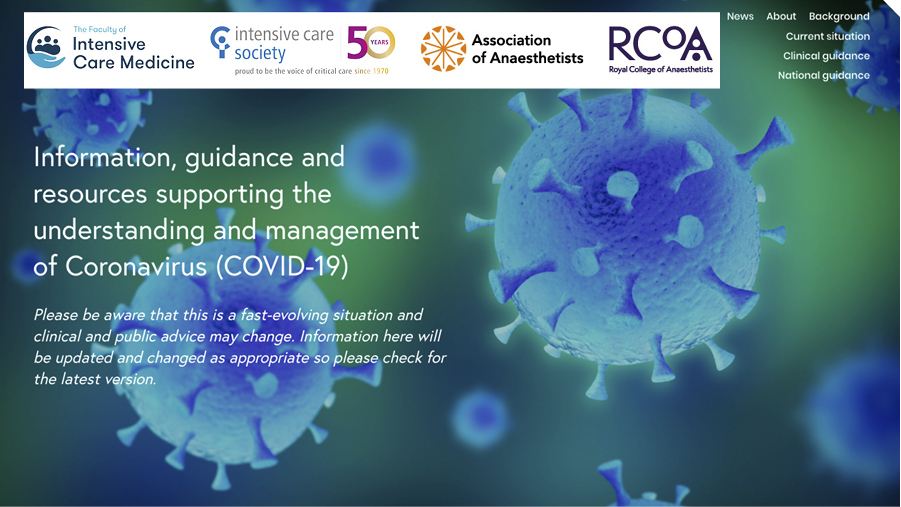 Joint ICM Anaesthesia clinical guidance - new website
Working in partnership with the Faculty of Intensive Care Medicine, the Intensive Care Society and the Association of Anaesthetists we are urgently reviewing and revising clinical guidance to provide the UK anaesthetic and intensive care community with up-to-date clinical information and resources needed to better understand and manage COVID-19.
To support this partnership, the above joint COVID-19 guidance hub has been created for anaesthetists and intensivists. This will become the central hub for all new multidisciplinary guidance, information and resources to support the understanding and management of patients with COVID-19. In addition to patient information, clinical guidance being devised and redeveloped includes that for airway management, obstetric anaesthesia, ICU/anaesthesia liaison and simulation/training. As more guidance is developed, this will be added to the website.
College actions
Working closely with our members, Government, national health bodies and specialist societies, the College is closely monitoring the national and global COVID-19 situation.
The College President and senior staff representatives are in regular contact with the Chief Medical Officer and Government officers to ensure we are in the best position to advise and update our members as the situation evolves.
Our three devolved nation representatives are also in regular contact with their respective Chief Medical Officers.
Our Communications and External Affairs Directorate is in regular contact with Communications Teams at the Academy of Medical Royal Colleges, the Department of Health and Social Care, NHS England, Public Health England, specialty groups and other Medical Royal Colleges.
We have developed two working groups comprising senior members of College staff and clinicians representing specialist societies and other key health organisations. The role of these two groups is to discuss the review, development and dissemination of relevant clinical guidance in response to COVID-19.
We have developed an online forum specifically to enable the College and National Clinical Directors to freely exchange information regarding COVID-19.
We will continue to provide up-to-date information and resources on our College website and digital communication channels.
Events
The Royal College of Anaesthetists has taken the decision to cancel all events and courses making up our education programme up to the middle of June 2020. Our flagship annual conference, Anaesthesia 2020 has been postponed - more information about this decision and FAQs regarding the postponement of Anaesthesia 2020 can be found here. Our Annual Dinner which was due to take place during Anaesthesia 2020 has also been cancelled. We have taken these difficult decisions due to the on-going global COVID-19 situation in order to reduce the risk to our members and the public.
As a Medical Royal College we have a responsibility to play our part in containing the spread of the virus whilst ensuring the safety of our delegates. Anaesthetists and intensive care practitioners are being called upon to care for patients with COVID-19 and therefore it is in the best interest of the NHS, our members and the wider public to cancel our programme.
Annual General Meeting 2020
With our 2020 AGM having been due to take place during Anaesthesia 2020, the College has postponed this meeting. A new date and venue will be communicated shortly.
Examinations
The Royal College of Anaesthetists has taken the very difficult decision to postpone all examinations (FRCA, FFPM and FFICM) until the autumn.
This has been a very carefully considered decision which has been made due to the on-going global COVID-19 situation, and our responsibility to reduce the risk to our members and the public. We will be sending out further information to our candidates over the next few weeks. Please visit the joint COVID-19 guidance hub for information on progression through training.
Business as usual
Working with our members and staff, we continue to review our operational policies to ensure we can maintain a business-as-usual service over the next few months as far as possible, while protecting the health and well being of those who visit or work at the College. We will provide further updates as and when new information becomes available.
How you can help
If you are an NHS clinician and you have comments or improvements to the UK Government's Coronavirus guidance for clinicians, please provide your feedback here.
If you have any questions regarding your own hospital or Trust's COVID-19 containment, treatment processes and procedures, or anything to add for the joint COVID-19 guidance hub, the College advises you to work closely with your Clinical Director. National Clinical Directors will be the main conduit for information from NHS Hospitals and Trusts to the College. College and Faculty members are asked to use National Clinical Directors as their main point of contact with the College and through whom to share information or raise concerns.
In addition to the joint COVID-19 guidance hub, we are also developing information for patients and carers to help them understand what to expect when those requiring care, arrive at hospital. Please share this with your patients if they have queries or concerns.
Links to relevant information
In response to COVID-19, the College building is now closed to protect the health of the College's staff and visitors.