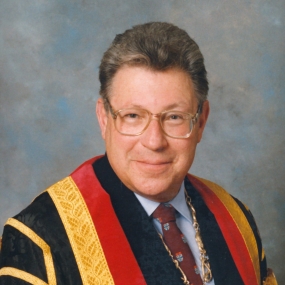 Leo qualified in Medicine in 1960 from Durham University, gained the FRCA in 1964 and completed his MD at Newcastle University in 1974. After clinical anaesthetic training, he took up a research post at the London Hospital, later becoming Senior lecturer in Anaesthesia in the Anaesthetic Unit of the London Hospital Medical College.
He began his senior academic career as Professor of Anaesthesia at King's College Hospital, 1975-79, followed by a period as Professor of Anaesthesia in Calgary, Alberta 1980-90, before returning to London in 1990. He was appointed as BOC Professor of Anaesthesia at the London Hospital Medical College, jointly with the Hunterian Institute of the Royal College of Surgeons. In 1995, he became the Director of the Academic Department of Anaesthesia of St Bartholomew's and The Royal London School of Medicine and Dentistry after the merger of the two medical schools.
Leo was the President of the Royal College of Anaesthetists between 1997-2000 later becoming President of the Association of Anaesthetists (AAGBI) between 2000-2002.
His academic interests included work into the effects of anaesthetic drugs on hepatic function, which used to be a major concern. He published widely and served on the Editorial Board of the British Journal of Anaesthesia, acting as editor of postgraduate issues for a term. I personally recall his office filled to the brim with piles of manuscripts, and his consistently happy demeanour. Other colleagues recall happy trips with him to developing countries as part of the charity 'Operation Smile', with whom he was actively involved for 10 years. He continued to perform routine anaesthesia until his retirement.
After quietly retiring in the early 2000's, he moved to Lincolnshire with his wife Jane and initially avoided receiving his obligatory retirement bell, which is the traditional gift for Royal London Anaesthetic retirees and a replica of the bell which used to inform staff of an imminent operation. It was finally delivered to him personally some years later by our colleague Sam Samra, who now works in Lincolnshire. In a letter to the Telegraph some years later, he recounted how his bell was used to summons him in for tea! He will be laid to rest in the paddock of his Lincolnshire home.
Helen Drewery
The Royal London Hospital
December 2020
Photo from the Royal College of Anaesthetists collection