Prof Sir Geoffrey Stephen William Organe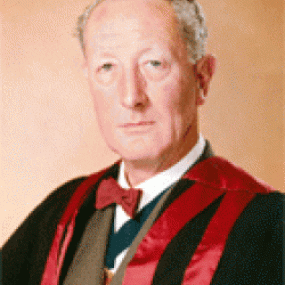 Professor Sir Geoffrey Stephen William Organe Kt MA MD FFARCS(Hon) FRCS FFARACS(Hon) DA
25/12/1908 to 07/01/1989
Place of birth: Madras, India
Nationality: British
CRN: 715232
Also known as: Geoff
Professor, 1966; Knighted, 1968
Education and qualifications
| | |
| --- | --- |
| General education | Taunton School, Somerset (he was a contemporary of J Alfred Lee); Christ College, Cambridge; Westminster Medical School, London where he was Captain of the United Hospitals Athletic Club. |
| Primary medical qualification(s) | MRCS LRCP, 1933; MB BCh, Cambridge, 1933 |
| Initial Fellowship and type | FFARCS by Election |
| Year of Fellowship | 1948 |
| Other qualification(s) | MA, Cambridge, 1930; DA(RCPS), 1937; MD, Cambridge, 1941 |
Professional life and career
Postgraduate career
Organe was sequentially house physician, casualty officer and house surgeon at the Westminster before he and his friend Patrick Shackleton (later senior anaesthetist in Southampton) set up a general practice in Hertfordshire. However, family medicine soon lost its interest and he joined the Royal Berkshire Hospital in Reading as resident anaesthetist in 1936. The following year, having obtained the DA, he was appointed house anaesthetist at the Westminster, but was soon diagnosed with colonic cancer requiring a series of operations. He returned to work towards the end of 1937 and was appointed to the hospital staff in 1939, but was exempt from military service during WW2 because of the recent surgery. Instead he worked in the Emergency Medical Service, became an enthusiastic fire fighter and later served on war-time committees on both traumatic shock and analgesia/anaesthesia in midwifery. After the war Organe continued at the Westminster, developing particularly the academic side of the department, eventually being appointed the first Professor of Anaesthesia at a London teaching hospital. He also served as Advisor in Anaesthetics to the Ministry of Health. He retired to live in Dorset in 1973.
Professional interests and activities
Research was an early interest, his MD being obtained in 1941. On his wartime committees Organe had met the young pharmacologist, (later Sir) William Paton, and the latter sought Organe's help in the evaluation of potential neuromuscular blocking drugs. C10 (decamethonium) was active, but C5 (pentamethonium) was not, well not until a subject stood up and promptly fainted – they had found the first ganglion blocking drug! This was shortly after Griffiths & Gillies in Edinburgh had introduced induced hypotension for reducing blood loss using high spinal block, but the new drug allowed the effect to be produced by simple intravenous injection. Important though Organe's pharmacological work was, it is arguable that his bigger contribution was his development of a major academic department through the encouragement of a series of successful anaesthetic researchers. Perhaps even more important were his contributions to the organisations of the specialty.
Elected to the AAGBI Council in 1947, he became its honorary secretary in 1948 and so was at the very heart of the discussions on the status of the anaesthetist within the new NHS and on the foundation of the Faculty. He was a member of the inaugural Board and then, over the next dozen years, held three senior positions: President of the RSM Section (1949-50), President of the AAGBI (1953-6) and Dean of the Faculty (1958-61). In 1951 Organe went to a meeting in Paris with Partick Shackleton and John Gillies to discuss an 'international' society, and from this developed the WFSA to which he contributed much, eventually being its President (1964-8). Organe received many awards, giving the Clover Lecture in 1962, being elected FRCS in 1965, and (for his international work) being made an honorary member of no less than 23 national societies! The highlight, of course, was his knighthood in 1968.
Other biographical information
Organe's father was a missionary in India when he was born, but was back in the UK by the time he was a medical student. Athletics, music and travel were lifelong interests.
Author and Sources
Author: Prof Tony Wildsmith
Sources and any other comments: [1] Pallister WK. Sir Geoffrey Stephen William Organe. Anaesthesia 1989; 44: 461-2 [2] Organe, Sir Geoffrey Stephen William (1908-89) in the RCSEng's 'Plarr's Lives series accessed on 11/03/2016 at livesonline.rcseng.ac.uk/blogs/E007556b.htm.