Obituary - Professor Roy Simpson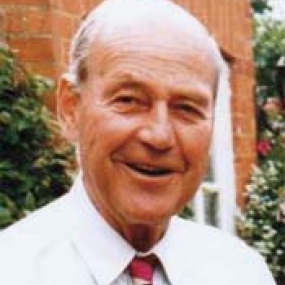 Bernard Roy Jerome Simpson MD, DPhil. FFARCS Aged 89 years. Born: 20 November 1922 in Newport, Monmouthshire, Wales, United Kingdom. Died: 23 June 2012. He leaves behind his wife of sixty years Ann Simpson and his three children Jane, Tim, and Robert, ten grandchildren and seven great grandchildren.
Roy Simpson trained in anaesthesia at the Radcliffe Infirmary, Oxford. He was a protégé of Sir Robert Macintosh. While at Oxford, Dr Simpson published a seminal paper on the management of postoperative pain using a thoracic epidural technique for patients undergoing upper abdominal surgery who had respiratory insufficiency. This study led to the recognition that proper pain relief could facilitate recovery from surgery.
He received a Doctorate of Philosophy from Pembroke College Oxford and in 1962 he was appointed a consultant to The Royal London Hospital. He was promoted to Professor and Chair of The Anaesthetics Unit in 1967. This was the teaching and research arm of the anaesthesia department. Roy developed and directed the hospital's first Intensive Therapy Unit (ITU) and also the cardiac surgery anaesthesia programme. The ITU was staffed by dedicated intensivists. He insisted on the acronym ITU instead of ICU (intensive care unit) as he stated we treat patients as well as care for them.
Roy developed the Anaesthetics Unit at The Royal London Hospital into a world-class centre over the next five years. He gained international recognition for his work on the unexplained hepatitis following halothane anaesthesia that was published in the British Medical Journal in 1976.
Prof. Simpson gave very popular courses for young residents to prepare for the Primary Fellowship examination of the Royal College of Anaesthetists. Roy Simpson was an accomplished and very popular speaker and teacher. His love of sports spilled over into his everyday life and added to his engaging personality. One never forgot the strong handshake and piercing eye contact 'welcome' on meeting Roy.
Dr Simpson accepted the position as Chief of the Department of Anesthesiology at Baylor University Medical Center in 1975 and moved to Dallas.
Dr Simpson took on many 'political' battles during his tenure, mainly because of his zeal to develop a first-class anaesthesia department delivering the best possible care to the patient. He did not seek the easy route of compromise but took controversies head-on.
Dr Roy Simpson was a dedicated educator and researcher and continued this until his retirement in 1993.
Roy's favourite poem was by William Butler Yeats:
Cloth of Heaven
Had I the heavens' embroidered cloths,
Enwrought with golden and silver light,
The blue and the dim and the dark cloths
Of night and light and the half-light,
I would spread the cloths under your feet:
But I, being poor, have only my dreams;
I have spread my dreams under your feet;
Tread softly because you tread on my dreams.
Mike Ramsay and Peter Walling
June 2012