Obituary - Dr William Richard Easy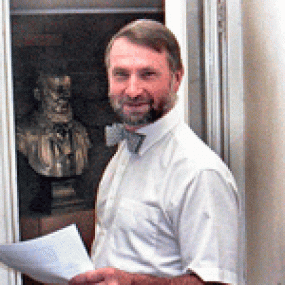 Born January 23, 1944; died from a glioblastoma June 1, 2010.
William Richard ('Bill') Easy served and trained as an anaesthetist in the Royal Air Force (RAF), before completing his medical career at the Vale of Leven Hospital, Alexandria in the West of Scotland.
He was born and spent most of his early years in Kent. His father was in the RAF and his mother was a music teacher. A love of sport became clear during his time at grammar school, but he also won a place to study medicine at Edinburgh. He enjoyed his undergraduate career both academically and in the extracurricular sports activity of the university, and graduated in 1970. After pre-registration posts he joined the RAF, serving at various locations in England and overseas before being appointed senior medical officer at RAF Stafford. During these tours of duty he continued to enjoy sport, learned to sail and took an interest in climbing, which included working with the mountain rescue service.
At that point he changed direction and became an anaesthetic trainee in the RAF. In due course he gained both the Primary and the Fellowship examinations, completed his training with a year at the John Radcliffe Hospital in Oxford as a senior registrar, and was appointed as a consultant to the Service. Thereafter he served at several RAF hospitals both home and overseas, including tours of duty in Cyprus and the Falkland Islands after the Falklands War, before retiring from the Service in 1989 to continue his anaesthetic career in the West of Scotland.
Altogether Bill's charismatic character, his love of sport and his spirit of adventure defined his private and professional life. He enjoyed the many extra-curricular opportunities provided by the Air Force, in particular sailing and climbing: in 1979 he was invited to be the medical officer on the RAF Mountaineering Association's Expedition to K2 in the Himalayas. Having learned to sail in home waters, he took advantage of this skill in the Mediterranean around Cyprus and in the Aegean Sea, where he was planning to sail again before his final illness was diagnosed.
In Scotland he took an active part in the development and management of his department and of key services there including intensive and high dependency care and the training of anaesthetic assistants. He was instrumental in linking the hospital's small combined intensive care and high dependency unit in to the Scottish Intensive Care Society Audit Group's activity. He established and supported the acute pain service, and was instrumental in popularising the technique of total intravenous anaesthesia amongst his colleagues. In due course TIVA became the most frequently used technique at the Vale of Leven Hospital, whether for day surgical or major procedures in most surgical disciplines, largely due to his success with and enthusiasm for it.
In civilian life in Scotland his spirit of adventure was undiminished, and he embarked on a parallel farming career following the purchase of a small sheep farm. Despite his considerable involvement in clinical services this was no hobby: he took farming very seriously, becoming widely accepted and respected in the agricultural community from which he learned much, a fact that he always gladly acknowledged. Despite this, his attention to his clinical practice, his patients, his colleagues and his department was never in any doubt, although for two weeks each spring he took unpaid "lambing leave" to ensure that domestic arrivals received his undivided attention.
He retired in 2006, to pursue farming and his many other interests, which included, in no particular order: shooting, angling and other country pursuits; classic sports cars, of which he at one time owned several, in particular Jaguars; fine wines; gardening; and music of all kinds, especially classical opera, an interest that he attributed to his mother's influence.
He is survived by his wife Karen, and by his two sons from his first marriage.
Mr Bob Roberts, Dr Geoff Douglas