Obituary - Dr William Knott Pallister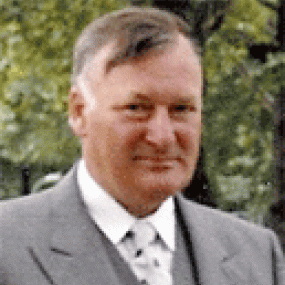 Dr William Knott Pallister
Former consultant anaesthetist, Middlesex Hospital (b 1926; q Westminster Medical School, 1949; FFARCS 1955; DHMSA London 1978).
Died peacefully at St John's and St Elizabeth's Hospital on 8 February 2008 from complications following a fall.
Bill was born in Sunderland but grew up in Newport, Gwent. At Newport High School he excelled in academic subjects as well as at team sports and athletics, maintaining his loyalty to the school for the whole of his life.
After gaining an entrance scholarship to Westminster Medical School and completing his preclinical studies at King's College, he qualified in 1949. He played in the Hospital rugby and cricket teams and was Victor Ludorum at the Annual Sports Day. After house appointments he trained in the Department of Anaesthetics at Westminster under Sir Ivan Magill, who became a life-long friend. His other teachers included Sir Geoffrey Organe and Dr Cyril Scurr, both of whom became Dean of the Faculty of Anaesthetists in the Royal College of Surgeons.
After National Service in the RAF in Aden he returned to Westminster in 1954 and then moved to the Brompton Hospital. At that time, single-lumen endobronchial tubes, placed under vision, were used for lung resection and Bill modified the existing Machray tube which became the Brompton-Pallister tube. This was used for many years until it was gradually replaced by double-lumen endobronchial tubes.
Appointed to the Middlesex Hospital in 1959, he was also consultant anaesthetist to the Women's Hospital, Soho and St John's and St Elizabeth's Hospital in London and was in great demand for his clinical skills and the care of his patients until his retirement in 1991. He was also active in the Anaesthetic Cardiothoracic Society.
In 1973 he was one of the first anaesthetists to be awarded a Hunterian Professorship at the Royal College of Surgeons, using his large collection of personal records to lecture on 'Rheostasis – the Use of Ganglionic Blockade to Reduce Operative Bleeding Without Sustained Hypotension'.
Bill was possessed of enormous charm and a great gift of friendship. With his contemporary students at Westminster, he formed the '18 Club' which has been the basis of annual dinners (and more recently lunches) since 1948. He was never happier than when fishing with colleagues on the Dee in Scotland or keeping in constant touch with his numerous friends. He displayed tremendous kindness and consideration to others and helped to look after Sir Ivan Magill in the last few years of Sir Ivan's life.
His retirement was marred by the loss of his wife, Jean, in 1994 and by a series of illnesses but he remained very active with interests in history, photography, the recording of classical music and lectures, and dealing with Sir Ivan Magill's memorabilia. He gained a Diploma in Medical History and was in the final stages of an Open University degree in Ancient Greek and Roman History at the time of his death. He is survived by his sister and brother.
Dr H Barrie Fairley
Dr T V Campkin
Dr D J Pearce