Obituary - Dr Peter North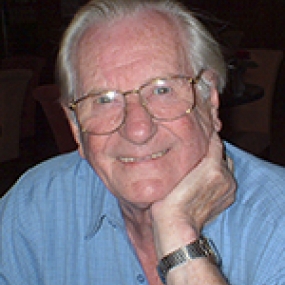 Peter North died at Scunthorpe General Hospital (the hospital where he had spent most of his working life) on the 30 April 2014 after a short illness. He was 83 years old and had survived his wife, Mary, by 13 years.
Born to working class parents in Rotherham in 1930, he secured a place at Rotherham Grammar School which is where he met his wife to be, Mary Walker (though they didn't marry until several years later in December 1956).
A period of National Service in the RAF followed school before his time at St. Andrew's University, which he always remembered with great nostalgia. He obtained his medical qualification in 1957 and did his first stint at Scunthorpe General, followed by a period in Obstetrics and Gynaecology at Grimsby.
The first of three sons, Andrew, was born in 1958. David was born in 1959 and Alistair in 1961. To his slight regret none of them chose to read medicine.
Up to the early 1960's Peter's ambition had been general practice but a change of direction took him into training as an anaesthetist at the United Sheffield Hospitals, obtaining his fellowship in London in 1964. In November of that year he returned to Scunthorpe General as a Consultant and remained there until he retired in 1994.
Peter had a particular interest in chronic pain relief and he started an NHS Pain Clinic in Scunthorpe in around 1980 using acupuncture and hypnosis alongside mainstream treatments. He also enjoyed his work giving chair dental anaesthetics for several clinics and private dentists in the area.
From his teenage years until late in life he was an enthusiastic bell-ringer. He attributed the fact that he didn't give up on campanology whilst at University to good fortune in finding a rare Scottish tower with 'proper bells' in Dundee. Hockey was Peter's game when young but he remained a keen sports fan throughout his life.
For 50 years, right up to his death, Peter lived in Epworth, Lincolnshire (famous as the birthplace of John Wesley). He was a prominent resident involved with the town's Men's Society, serving on the Town Council for several years and (of course) ringing the church bells. Francophile's both, he and Mary owned 'boltholes' in France at various times and enjoyed many holidays there.
His great joy over the last two decades has been his very precious relationship with his two grandchildren, Douglas born in 1993 and Becky in 1998.
Peter was a modest, caring and calm man who in his professional life exhibited a perfect bedside manner whilst providing a loving and secure home for his family.
Mr Andrew North