Obituary - Dr Ghandhimathi Krishnan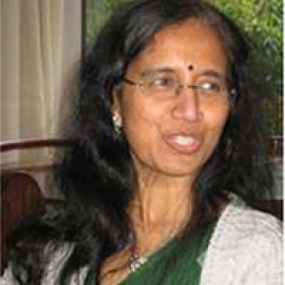 Consultant Anaesthetist and Intensivist, Belfast City Hospital, Belfast, Northern Ireland, UK.
Dr Ghandhimathi, 'Ghandhi' to all, was born in Madurai, India. She graduated from Madurai Medical College in 1981 and did her Diploma in Anaesthesia as well as MD( Anaesthesia) from the same institute. She worked at RMM College Annamalai University, Chidambaram and JIPMER, Pondicherry, before coming over to the UK in 1994.
Ghandhi worked in Bolton for a year and then moved to Northern Ireland. She did her FRCA in 1996. She then went on to do a Fellowship in Cardiac Anaesthesia at the Royal Victoria Hospital, Belfast. Thereafter she returned to India and worked at the Shri Chitra Institute, Trivandrum as a consultant anaesthetist for 2 years. She returned to Northern Ireland, completed her CCST and was appointed Consultant Anaesthetist at the Belfast City Hospital in 2004.
Ghandhi was a very popular anaesthetist. She loved her profession, particularly her area of special interest, Intensive Care. She was caring and compassionate beyond the call of duty. She brought dynamism to her role as Audit Co-ordinator for many years, ensuring participation by trainees, nurses and colleagues. She was Treasurer for 'Anaesthetists in Management' at the time of her death.
A keen teacher, Ghandhi would spend some of her own vacation time teaching at the Christian Medical College, Ludhiana, India. She also worked in a charitable hospital in India during one of her vacations.
Ghandhi exuded a joie de vivre, perceptible in her beaming smile and her instant rapport with people. She took joy in the simple pleasures of life. She was very intelligent and knowledgeable on many subjects. She felt strongly about issues related to injustice particularly to women.
This poem by Rabindranath Tagore was a source of great inspiration to Ghandhi. Those who knew her would agree that she led her life true to the theme of this poem.
Give Me Strength
'This is my prayer to thee, my lord---strike,
strike at the root of penury in my heart.
Give me the strength lightly to bear my joys and sorrows.
Give me the strength to make my love fruitful in service.
Give me the strength never to disown the poor or bend my knees before insolent might.
Give me the strength to raise my mind high above daily trifles.
And give me the strength to surrender my strength to thy will with love.'
Rabindranath Tagore
For several months Ghandhi had been suffering from an undiagnosed illness that took her life suddenly on 14 March 2013 in Chennai, India, while she was on vacation. With her spirit and determination she had continued to work to the end. She leaves behind a family of 2 sisters, 2 brothers, nieces and nephews. Over 150 people, her friends, colleagues and patients gathered for a memorial to Ghandhi in Belfast on 27 April 2013. She will be deeply missed by all.
May she rest in eternal peace.
Dr Anjali Kusurkar