Obituary - Dr Gerald Zeitlin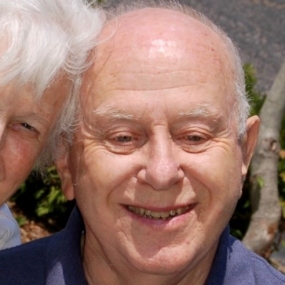 Dr. Gerald Zeitlin, a retired anesthesiologist, 89, died Sunday, April 26th at​ ​University Hospitals St. John Medical Center in Westlake, OH, after a short illness.
Gerald was born in London, England in 1931, and was raised in an observant Jewish household. During World War II, he lived with his family in London, the English countryside, and in Wales. His memories of life during the war were mostly positive - missing school, watching air battles, and adventuring at night with his cousin in the London Underground while the family slept in the station. He used these experiences as the basis for his as-of-yet unpublished novel, ​Henry Underground​. During those years, Gerald was inspired by the strong voice of Winston Churchill, heard regularly over the wireless. Churchill served as an inspiration for Gerald the rest of his life.
Gerald planned to enroll at the London Hospital to study medicine there like his father, Dr. Jack Zeitlin – a family GP. Deciding to widen his choices of academic institutions he spent a year being tutored in Latin (an entrance requirement) by his school headmaster ("​That's puellam, Zeitlin"​)​ ​and was admitted to Fitzwilliam House (now Fitzwilliam College) Cambridge University in 1951 where he spent a happy three years in pre-medical studies gaining a BA in Natural Sciences in 1954. He then continued with clinical studies at the Radcliffe Hospital - part of the Oxford University Medical School, graduating in 1957 back at Cambridge University in a class of 11 with an MA Cantab; MBB Chur and later becoming an MD. While at the Radcliffe Hospital he had his first exposure to the burgeoning field of anesthesia, his chosen specialty. In the late 1950s,
Gerald's parents and future in-laws, engineered a meeting between him and a young Irish-Jewish violinist named Aideen Tolkin whom he married in 1960. Aideen and Gerald emigrated with their first two children and Aideen's recently widowed mother to the US in 1965 with their third child born in Boston where they lived for 48 years. They then went into retirement in Oberlin Ohio to be near their daughter Louise They spent 54 happy years in the US together until Aideen's passing in 2014.
Gerald bookended the main years of his professional life in private practice at the Union Hospital in Lynn, MA and Lahey Clinic in Burlington, MA with academic appointments at the Massachusetts General Hospital and Brigham & Women's Hospital in Boston, MA. He served a term as President of the Massachusetts Society of Anesthesiologists. He also published several Anesthesia history papers including a profile of Dr. Jean Henley who wrote the first modern Anesthesia textbook in German.
During the years in Massachusetts, Gerald enjoyed family life raising his three children, coaching soccer and spending summers in Cape Cod. His attempts at carpentry and wine making were met with mixed success, a source of amusement for the self-effacing Gerald.
After retirement, Gerald published a memoir of his professional life, ​Laughing And Crying About Anesthesia: A Memoir Of Risk And Safety,​ in which he tells the development of his specialty from early ether explosions to the high art of monitoring and patient safety where it stands now.
Gerald is survived by his three children, Louise Zeitlin Howsmon, Jonathan Zeitlin, and Richard Stever-Zeitlin, his sister Naomi Zeitlin, brother David Zeitlin and sister-in-law Vivian Zeitlin, seven grandchildren; Rachel Howsmon, Andrew Howsmon, Benjamin Stever-Zeitlin, Samantha Stever-Zeitlin, Thelonius Zeitlin, Eli Zeitlin, Noa Zeitlin, his niece Nina Zeitlin, two daughters-in-law Lisa Waltuch and Jill Stever-Zeitlin, and son-in-law James Howsmon.
Donations in memory of Gerald can be sent to ​Emek Medical Center​, a beacon of Arab-Israeli cooperation or ​Hope for Depression​.
Dr. Gerald Zeitlin was a kind-hearted gentleman and a mensch. He will be missed by all who knew him.
Author: Naomi Zeitlin (Dr Gerald Zeitlin's sister)