Obituary - Dr Edith Gilchrist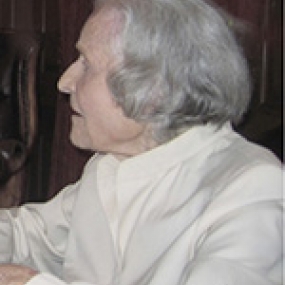 Edith Gilchrist was born in September 1913 - the second child of Alexander and Katherine Gilchrist - and died in July 2013 shortly before her 100th birthday. One of three children, Edith took on a caring role for her elder sibling at an early age. Edith attended Woodford County High School becoming captain of both hockey and cricket teams and in 1931 head girl. Her love of cricket was lifelong and she became a member of Lord's.
Edith qualified from The Royal Free Hospital School of Medicine in 1938 and in1942 became resident anaesthetist at Addenbrooks Hospital, Cambridge where she acquired the DA. Edith was appointed Staff Anaesthetist at The Royal Free in 1945, and in December married Ian Donaldson, an obstetrician and gynaecologist. Their son David (born 1946) also qualified at The Royal Free and now practises in Australia. In 1953 Edith was awarded the FFARCS.
During her career at The Royal Free, Edith worked primarily with Cecil Joll, a thyroid surgeon, George Qvist, a general surgeon and Dick Dawson, a plastic surgeon. These surgeons were leaders in their respective fields and Edith was much admired for her skill, high standards, humour and team work. Edith had to be infinitely flexible to cope with the unexpected – tantrums and otherwise!
Edith also worked alongside Stanley Rowbotham, a Royal Free consultant anaesthetist who was a great innovator in new anaesthetic equipment and techniques. They became lifelong friends and Edith often visited the family in Madeira. Edith co-ordinated the making of the plaque dedicated to Stanley Rowbotham which now hangs in The Royal College of Anaesthetists among plaques for other very distinguished colleagues.
Edith's wide interests outside The Royal Free included the history of medicine. She joined The Harveian Society in 1971, became Honorary Secretary in 1984 and the first lady President in 1985/6. Edith was also an active member of The Hunterian Society and The Osler Club. At one time Edith was Vice-President of The History of Anaesthesia Section of The RSM.
Edith was keenly interested in the history of The Royal Free Hospital and undertook the role of archivist. In 1978 she assembled and curated a most comprehensive exhibition for a visit by HM Queen Elizabeth II to celebrate the 150th anniversary of the founding of the hospital by William Marsden in 1828 - some years before he founded the Marsden Hospital for cancer.
Edith maintained her interest in the Royal Free archives throughout her retirement and was highly respected nationally and internationally for her detailed research. One special contribution concerned a collection of mini-biographies of famous individuals who had qualified or worked at The Royal Free in the early days. These were placed at the entrance to the respective ward (Jex-Blake, Annie Zunz etc), and stimulated great interest in staff, students and the general public.
While Edith published and presented little of her extensive research herself, it has formed the basis of many other people's work, papers and presentations.
Edith was a particularly caring person towards her patients, students and trainees. This most modest and unassuming woman upheld the highest of standards in everything she did.
Edith Gilchrist was a role model for all who knew her.
David Donaldson, Doreen Browne