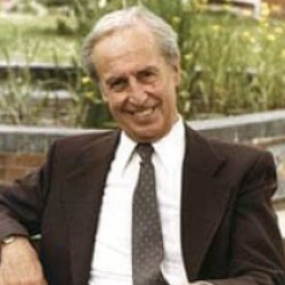 Dr Ronald Albert Fisher MA FFARCS MRCS LRCP DA
03/06/1917 to 15/08/2007
Nationality: British
CRN: 500768
Also known as: Ronnie
Education and qualifications
| | |
| --- | --- |
| General education | Heversham School, Cumbria; Downing College, Cambridge; Middlesex Hospital, London |
| Primary medical qualification(s) | MRCS LRCP, 1943. |
| Initial Fellowship and type | FFARCS by Election |
| Year of Fellowship | 1953 |
| Other qualification(s) | MA, Cambridge, 1943; DA(RCP&S), 1947 |
Professional life and career
Postgraduate career
After qualifying he joined the RNVR as a Surgeon Lieutenant, serving on convoy duties in the Western Approaches, Gibraltar and Java (where he was medical officer of the port of Surabaja, 1945-6). He also served in the rescue ship, Zimalek, on Arctic convoys and was awarded the Arctic Star in 2006. On his return home he commenced a career in anaesthetics, passing the DA in 1947 and later becoming Senior Registrar at The Royal Victoria Hospital, Boscombe. In 1953, after a year at McGill University in Montreal he was appointed consultant to the Bournemouth and East Dorset hospitals, the first anaesthetist in the group to serve a recognised training in the specialty. From 1973 he was also consultant in charge of the hospice unit (see below) at Christchurch Hospital, with this becoming his primary role from 1978 until retirement from the NHS in 1982.
Professional interests and activities
As head of the anaesthetic department for Poole and Bournemouth (it is now named after him) Dr Fisher supported development of intensive care and chronic pain services, and held a number of positions at Royal Victoria Hospital, Boscombe: member, management committee (1960-71); director of PG education (1963-67), raising funds for an education centre; chairman of the medical executive committee (1965-71), also sitting on the medical advisory committee, Wessex Regional Hospital Board. Working to improve relations between hospitals in Poole and Bournemouth, he identified that terminally ill patients could be better managed so, as President of the Bournemouth & Poole Medical Society, invited Dame Cecily Saunders, founder of St Christopher's in London, to speak. He then persuaded the Health Board to pay running costs if he could raise the funds to build and equip a specialist unit. This, the first NHS palliative care unit in the country, was established at Christchurch Hospital in 1974 with him as consultant in charge and thus founder of hospice care in the NHS, his greatest achievement. He also went on to pioneer specialised palliative nursing care for cancer patients in the community, the prototype for the Macmillan Nursing Service, and was chairman (1977-80) of a select committee of experts reporting to the Council of Europe in Strasbourg on problems relating to death. He continued working in this field well into retirement, producing three editions of his book "Palliative Care for People with Cancer" between 1991 & 2002, and introducing palliative care to Ohio, Gibraltar, Portugal and Belgium. In 2006 he received the Macmillan gold medal for outstanding service to cancer relief worldwide.
Other biographical information
At Cambridge he enjoyed cricket, rugby & athletics, but his major leisure activity was as an amateur actor in Bournemouth where, in 1949, he met his wife Gwyneth MacKinnon. They married in 1952 and she, with two daughters, survived him. His love of the arts led to him becoming chairman of the Palace Court Theatre, Bournemouth and a director of Louis Michael Theatres, a group including the Theatre Royal, Haymarket, and the London Strand (now Novello) & Richmond Theatres.
Author and sources
Author: Michael Skivington, Robert Julian Palmer.
Sources and any other comments:
Skivington MA. Dr Ronald Fisher, Anaesthetist and Hospice Pioneer. Proc Hist Anaesth Soc 1995; 18: 34-7 | Obituary: Ronnie Fisher. The Telegraph, 06/10/2007