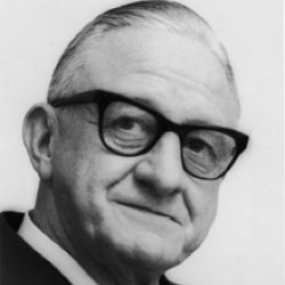 Dr Morton Digby Leigh
23/09/1904 to 05/09/1975
Place of birth: Jersey, Channel Islands
Nationality: Canadian
Professor, from 1954
CRN: 715515
Education and qualifications
| | |
| --- | --- |
| General education | At school in British Columbia; University of British Columbia; McGill University Medical School |
| Primary medical qualification(s) | MDCM, McGill, 1932 |
| Initial Fellowship and type | FFARCS by Election |
| Year of Fellowship | 1949 |
| Other qualification(s) | BA, University of British Columbia, 1927 |
Professional life and career
Postgraduate career
After graduation Leigh was an internist at Montreal General Hospital and then began to train in paediatric surgery at the Children's Hospital, but Wesley Bourne encouraged him to switch to anaesthesia. Thus in 1936 Leigh joined the three year residency training programme under Waters in Madison, Wisconsin, returning to Montreal in 1939 as a research fellow in pharmacology before becoming Anaesthetist-in-Chief at the Children's Memorial Hospital in 1940. In 1947 he moved back to British Columbia as Director of Anaesthesia at Vancouver General Hospital and Associate Professor of Surgery, but in 1954 he returned to full-time paediatric practice as Director of Anesthesia at the Children's Hospital in Los Angeles and Professor of Anesthesia at the University of Southern California, appointments he held until he retired in 1970.
Professional interests and activities
With his appointment to the Children's Memorial Hospital in Montreal, Leigh was one of the first clinicians anywhere to specialise in paediatric anaesthesia, developing techniques and equipment for use in children, and gaining a "formidable reputation as a teacher" whose style was "cajoling, humorous and provocative"! This teaching activity was within the context of broader training programmes established with Bourne during WW2, initially for medical students and specialist trainees, and later for service personnel. In Vancouver his mandate was to modernise anaesthesia services, which he did, and he also established a university department across both adult and paediatric hospitals, but became disillusioned with the prospects of making it fully independent, this perhaps prompting the move to Los Angeles. Leigh published on a wide range of topics, with the textbook "Pediatric Anesthesiology", co-authored with Dr Kay Belton, a colleague who moved with him from Montreal to Vancouver, being the first devoted to the problems of anaesthesia in children. Acclaimed as the "Father of Paediatric Anaesthesia in Canada", Dr Leigh was one of the five founder members of the Canadian Anaesthetists' Society, and its first Honorary Secretary (1943-6). He was certified in anaesthesia 'by election' by the Canadian Collegein 1942, and as a Diplomate of the American Board of Anaesthesiology in the same year.
Author and sources
Author: Prof Tony Wildsmith
Sources and any other comments: Bevan JC. Important Contributor: Dr Morton Digby Leigh (1904-1975) – accessed on 31/12/2015 at www.cas.ca/English/Dr-Morton-Leigh. I thank Prof Brendan Finucane for his help. Photo reproduced by kind permission of Canadian Anesthesiologists' Society.