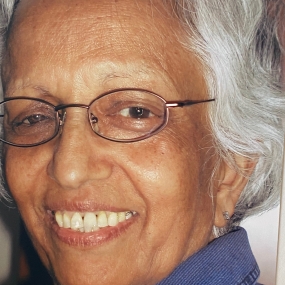 Dr Krishna Aggarwal MBBS FFARCS
24/06/1933 to 05/04/2010
Place of birth: Simla, India
Nationality:
Known as: Krishna
CRN: 491745
Education and qualifications
| | |
| --- | --- |
| General education | All in India: St Thomas School, Shimla; Christian Medical College, Ludhiana; Grant Medical College, Mumbai |
| Primary medical qualification(s) | MBBS, Mumbai, 1959 |
| Initial Fellowship and type | FFARCS by Examination |
| Year of Fellowship | 1965 |
| Other qualification(s) | |
Professional life and career
Postgraduate career
Dr Aggarwal came to the UK in 1960, the year after qualifying, and undertook PG training in anaesthesia, first in Liverpool and subsequently in Southend-on-Sea and Stoke-on-Trent. In 1968 she was appointed a consultant at Pinderfields Hospital, Wakefield, soon becaming head of the department, and she worked there until retirement in 1998.
Professional interests and activities
Highly regarded for the quality of her clinical work, she had a particular interest in anaesthesia for neurosurgery and for ENT & urology. She was was instrumental in establishing an obstetric epidural service, and acted as a great mentor of, and inspiration to, others, with the department being well known for the quality of its training. She was a regular attender at the Leeds Medico-Chirurgical Society and The Yorkshire Society of Anaesthetists, and in retirement supported patient advocacy groups in local hospitals.
Other biographical information
She loved the Lake District, and enjoyed hiking, crosswords, fashion, eating out and, perhaps most of all, cooking food for family & friends to enjoy in her home; she delighted in the accompanying conversation. A soroptimist, and something of a 'trail blazer' for female Indian doctors in the NHS, she was also an avid traveller, this leading to a very wide circle of friends.
Author and sources
Author:
Virinder Nohria (nephew), who also provided the photograph
Sources and comments:
[1] Personal knowledge [2] Obituary bmj.m1657.full [3] Additional information from her colleague, Dr Satwant Gill FRCA