Dr Henry Walter Featherstone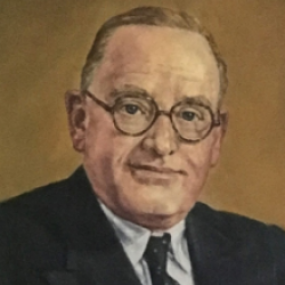 Dr Henry Walter Featherstone
05/04/1894 to 23/04/1967
Place of birth: Erdington, Warwickshire
Nationality: British
CRN: 715357
Also known as: Harry
Education and qualifications
| | |
| --- | --- |
| General education | King Edward's School, Birmingham; Trinity College, Cambridge; University of Birmingham |
| Primary medical qualification(s) | MRCS LRCP, 1916 |
| Initial Fellowship and type | FFARCS by Election |
| Year of Fellowship | 1948 |
| Other qualification(s) | BA, Cambridge, 1914 (MA 1918); MBBChir, Cambridge, 1917 (MD, 1924); |
Professional life and career
Postgraduate career
In the first few years after qualifying Featherstone served with the RAMC Special Reserve in Salonika & Flanders (Lieutenant, then Captain), was assistant demonstrator in anatomy in Cambridge, and held several posts at the General Hospital, Birmingham (house officer in ENT, resident medical officer, & physician to the disabled soldiers department) although the sequence is unclear. In 1921 he was appointed anaesthetist to Birmingham's General & ENT Hospitals, added the Dental Clinic in 1923, became honorary consultant at the Children's Hospital the following year, and clinical lecturer in anaesthetics to the University in 1928. In essence these were the appointments he held until retirement although he returned to the RAMC for the duration of WW2, served on hospital ships and was eventually promoted to Lieutenant-Colonel.
Professional interests and activities
Through his publications and other activities Featherstone quickly became well known, joining the council of the section of anaesthetics at the RSM in 1924, and becoming president for 1930/31. Through his contacts with others he had become aware of the need for an organisation to deal with those non-academic aspects of anaesthesia which were precluded by the RSM's constitution. This restriction was emphasised when Magill, then the honorary secretary of the section, made proposals in 1931 regarding a diploma examination, but was advised to desist by the secretary of the society. Featherstone then instituted the consultations and meetings which led to the establishment of the AAGBI. He was the first president (1932-5), afterwards serving as honorary secretary (1936-40). Awarded the DA(RCP&S) without examination (1935), Featherstone received many awards to mark the importance of his work: OBE (1944) for his military service; AAGBI John Snow Medal (1946); Honorary LLD, Edinburgh (1947); and Honorary FFARCS (1962).
Other biographical information
After WW2 Featherstone returned to his Birmingham appointments, but not his busy private practice, focusing instead on teaching and pro-bono non-medical activities: county magistrate, commissioner of income tax and chairman of the executive committee of the YMCA. He also took an active part in the management of his family's businesses and estates – his father had been a GP and Birmingham Alderman. Although no longer involved in the administration of the AAGBI he remained a constant attender at its meetings. He also enjoyed hunting, and his entertaining was "proverbial"!
Author and sources
Author: Prof Tony Wildsmith
Sources and any other comments: Obituary. Anaesthesia 1967; 22: 532-3 | Boulton TB. The Association of Anaesthetsts of Great Britain and Ireland 1932-1992. London: AAGBI, 1999 (including a biography by ET Mathews) | Medical Directory | With thanks to the Association of Anaesthetists of Great Britian & Ireland for the photograph