Dr Harold Randall Griffith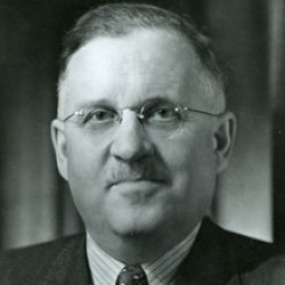 Dr Harold Randall Griffith
25/07/1894 to 07/05/1985
Place of birth: Montreal
Nationality: Canadian
CRN: 715508
Also known as: 'Dr Harold' to close colleagues, 'Uncle Harold' to those elsewhere.
Professor, from 1951
Education and qualifications
| | |
| --- | --- |
| General education | High School of Montreal; McGill University |
| Primary medical qualification(s) | MD CM, McGill University, 1922 |
| Initial Fellowship and type | Honorary FFARCS |
| Year of Fellowship | 1949 |
| Other qualification(s) | BA, Magill University, 1914; MD in Homeopathic Medicine, Hahnemann Medical College of Philadelphia, 1923. |
Professional life and career
Postgraduate career
Griffith became fascinated with anaesthesia, and published his first paper setting out guidelines for safe practice in 1922, while still a medical student. He became Chief of Anesthesia at the Montreal Homeopathic Hospital in 1923, continuing in the appointment until 1959, and to work clinically there until 1966. When the Magill Department was formed in 1945 the Chairman, Wesley Bourne, invited Griffith to join its staff, and he used his WW2 experience (see below) to organize the training programme. Griffith succeeded Bourne as Professor and Chairman in 1951, and held the appointment until 1956, then becoming Professor Emeritus. He was also Medical Director of the Homeopathic (later Queen Elizabeth) Hospital for 30 years. Griffith gave conspicuous service during both world wars. During WW1 he joined the Canadian Army, winning the Military Medal for bravery at the Battle of Vimy Ridge, and later transferring to the navy where he gave anaesthetics as a Surgeon Sub-Lieutenant. During WW2 he was a Wing Commander in the Royal Canadian Airforce, organizing a rapid training programme on the administration of anaesthetics for physicians going to serve overseas. Thus Griffith had the distinction of serving in all three of Canada's armed services.
Professional interests and activities
Griffith's early writings put him in touch with other like minded practitioners, notably Ralph Waters, who did so much to develop the modern specialty's academic basis before WW2. For that work alone he is important, but he contributed so much else and the date of 23rd January, 1942 is, without doubt, the second most important (after 16th October, 1846) in the history of anaesthesia. That was when, with Dr Enid Johnson, Griffith used curare clinically for the first time (see the obituary quoted below for the full story). The impact on operative practice was obvious and immediate: the body cavities could be accessed without recourse to deep planes of anaesthesia. The impact on the specialty continues to this day because the skills needed to use this 'wonder' drug safely required properly trained and experienced anaesthetists, and those skills were applicable in a wide range of clinical situations. Thus was founded the modern specialty of anaesthesia in its broadest definition. As if that was not enough, Griffith (also a pioneer of recovery areas) was a great supporter of, and office bearer in, societies in the specialty, from the very local to the highest international level. Ultimately, he went on to be the inspiration behind, and founding President of, the World Federation of Societies of Anaesthesiology. Such major contribitions attracted the most senior honours, including Officer of the Order of Canada, and awards from virtually every anaesthetic organisation around the world - these are detailed in the obituary quoted below, being too many to mention here. With Bourne he was a leader in North American (not just Canadian) anaesthesia, and this was marked by Griffith's receipt of both the Ralph Waters and the ASA's Distinguished Service Award. He is the only non-American to receive the latter.
Other biographical information
Griffith, a great family man, was described as "a humble, quiet, unassuming but energetic man".
Author and sources
Author: Prof Tony Wildsmith
Sources and any other comments: Gillies DMM, Wynands JE. Obituary: Dr Harold Griffith 1894-1985. Can J Anes 1985; 32: 570-2. I would thank Prof Brendan Finucane for his help. Image courtesy of the Wood Library-Museum of Anesthesiology, Schaumburg, IL, USA.