Dr Francis William Roberts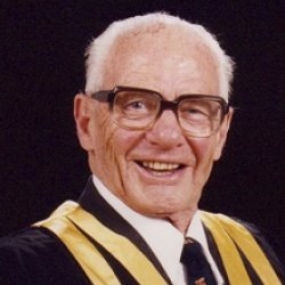 Dr Francis William Robert MBBS FFARCS FFARACS MRCS LRCP DA
27/01/1911 to 02/02/2005
Place of birth: Washington, Chester-le-Street, Durham
Nationality: British
Other nationality: Australian from 1962
CRN: 535252
Also known as: Bobby
Education and qualifications
| | |
| --- | --- |
| General education | Christ Church Cathedral School Oxford, 1920-24; Kings School, Canterbury 1924-28 (Kings Scholar); Middlesex Hospital Medical School, 1928-33 (Sir Edmund Davis Exhibition; prizes in Anatomy dissection and Obstetrics & Gynaecology) |
| Primary medical qualification(s) | MRCS LRCP, 1933 |
| Initial Fellowship and type | FFARCS by Election |
| Year of Fellowship | 1948 |
| Other qualification(s) | MBBS, London, 1933; DA(RCP&S), 1935 |
Professional life and career
Postgraduate career
Dr Roberts was sequentially resident house surgeon (1933), resident anaesthetist (1933-4), senior resident anaesthetist (1934-6), and assistant anaesthetist (1936-9) at the Middlesex Hospital before being appointed to the Honorary Staff in 1939, and continuing to work there under the auspices of the Emergency Medical Service until 1945. Because of the need for his services in London he was not called up for National Service until 1946, but a riding accident after receipt of his papers caused him to be declared unfit. He spent eighteen months in 1947-8 in a joint University & Hospital post in Utrecht, part of a teaching project to help The Netherlands recover from WW2.
In 1949 he emigrated to South Africa, spending a year as principal anaesthetist at the University of Witwatersrand and Johannesburg General Hospital, and 11 years as senior part-time anaesthetist at the hospital. From 1962 he spent 10 years as the Director of Anaesthetics, Royal Hobart Hospital Tasmania, followed by a three year stint in anaesthesia in Bulawayo, Rhodesia and another three in Johannesburg, before returning to Hobart in 1979, working part-time in private practice for two years and part-time as a medical assessor for the Department of Veterans Affairs until his final retirement in 1987.
Professional interests and activities
His major interest was the teaching and training of others, although early publications focused on IV anaesthesia. He also made major contributions to the organisations of the specialty wherever he worked: Section of Anaesthetics, RSM – council member (1943-4); Nederlande Vereniging voor Anesthesiologie – founder member & acting president (1948), later honorary member; South African Society of Anaesthetists - secretary/treasurer (1952-4), vice-president (1955-4), president (1955-6), later honorary member; South African College of Physicians and Surgeons – primary FFA examiner (1961); Medical Association of South Africa – Transvaal council member (1957-61), federal council member (1960-1); Royal Australasian College of Surgeons – FFA by election (1964).
Other biographical information
Dr Roberts's 'wanderlust' seems to have stemmed from his mother who, after his parents separated when he was six, cycled (with him on the carrier) from Durham to her parents in London, and his life continued to be just as eventful thereafter. The details are documented in the references below, but it is hoped that the material can be made more readily available in the UK, particularly his account of working in London during the WW2 'blitz'. He was keen on a wide range of sports, and an active ornithologist.
Author and Sources
Author: Prof Tony Wildsmith
Sources and any other comments: 'Boulton' form completed by Roberts in 1988 | Parbhoo N. Five Decades: The South African Society of Anaesthetists 1943-1993. Johannesburg: South African Society of Anaesthetists, 1993 | Obituary. Australian Society of Anaesthetists Newsletter, April 2005 | Personal communication from Prof Nigel Roberts whose recollections of his father are available on http://www.nigel-roberts.info/bobby-roberts.htm
In addition, Prof Nigel Roberts has kindly provided the College with a PDF copy of the fascinating memoirs of his father, available from archives@rcoa.ac.uk on request.
Thanks are due also to Rose Sayce, David Wilkinson, Peter Gordon (South Africa), Monica Cronin (Melbourne), Marcus Skinner (Hobart) and for their help.