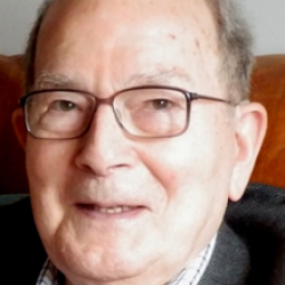 Dr David Zuck MBChB FFARCS DA DHMSA
04/06/1923 to 02/11/2016
Place of birth: Birmingham
Nationality: British
CRN: 523370
Education and qualifications
| | |
| --- | --- |
| General education | King Edward V1 Grammar School, Birmingham, 1934-40 (Awarded the Foundation Medal); University of Birmingham Medical School, 1940-45 |
| Primary medical qualification(s) | MB ChB, Birmingham, 1945 |
| Initial Fellowship and type | FFARCS by Election |
| Year of Fellowship | 1953 |
| Other qualification(s) | DA(RCP&S), 1948; Diploma in the History of Medicine, Society of Apothecaries, 1974 |
Professional life and career
Postgraduate career
Initially house physician giving emergency anaesthetics at Selly Oak Hospital, 1945-1946, then after an Emergency Commission to the RAMC in March 1946, undertook anaesthetic duties as a trainee and graded anaesthetist in Munster, Hamburg and Wupperthal until August 1948. Promoted to Lieutenant in 1946 and Captain in 1947. On demobilisation: Resident Anaesthetist, Birmingham Accident Hospital, 1948-1949; Anaesthetics Registrar, Hammersmith Hospital, 1949-1950; Senior Anaesthetics Registrar, Winchester Hospital, 1950; Anaesthetic Locum posts, hospitals in North London, 1951; Senior Registrar, St Mary Abbot's Hospital, 1951-1952; Senior Registrar, Whittington Hospital, 1952-1954; Consultant Anaesthetist, Enfield District Hospitals, 1954-1988.
Professional interests and activities
Published book on 'Principles of Anaesthesia for Nurses', 1969; co-author, with Professor Peter Vinten-Johansen, of 'Cholera, Chloroform, and the Science of Medicine – A Life of John Snow', 2003. Reserve RAMC until 1968; Consultant in charge of training, Enfield, 1954-79; Chair, North London Group of Anaesthetists, 1960-65; Member, Enfield Group Hospital Management Committee, 1961-74; Member, North East Thames Medical Advisory Committee, 1974-80; Chair, North East Thames Regional Anaesthetic Advisory Committee, 1974-80; Faculty Tutor, Enfield, 1979-87; Member (University of London Nominee), Enfield DHA, 1982-88. Awards: AAGBI - Pask Certificate of Honour, 1998, Honorary Member, 2004; History of Anaesthesia Society (HAS) - President 1994-6, Honorary member, 1999; American Anaesthesia History Association - Certificate of Honorary Mention, 2011, for a paper in HAS Proceedings; RCoA President's Commendation, 2012 for ten years work on the 'As we were ... ' column in the Bulletin.
Other biographical information
David Zuck displayed a keen interest in the potential of early incarnations of the personal computer, such as the Sinclair ZX81. His programming skills were self-taught and enabled him to produce some of the first multiple choice questions for trainees to answer during tutorials. He embraced new technology and realised the power of the inter-net from its earliest days, using it extensively in his research for the book on Snow and producing the first website for HAS. His interest in times past was wide-ranging: as well as his work on anaesthesia and medicine, he researched the history of the English letterbox, amongst other topics. His family emigrated from Suwaki (then part of the Russian empire, now in norh-east Poland) to England circa 1910. David married to Bella Polatowsky in 1950, and they had a son and a daughter.
Author and Sources
Author: Dr David Zuck, transcribed by Mrs Rosemary Sayce
Sources and any other comments: 'Boulton' form completed 29 January 1988; Briefing note for interviewer, AAGBI archive recording, June 2015. Photograph provided by David's son, Michael, who has changed his surname to Zuke, although his sister, Linda, continues to use Zuck professionally.