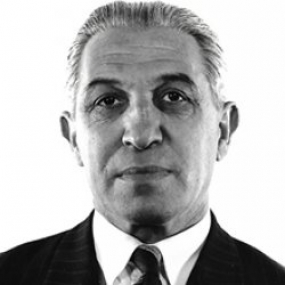 Dr David Aserman MD FFARCS DA
23/12/1898 to 06/10/1972
Place of birth: Zimbabwe (then Rhodesia)
Nationality: British
CRN: 715750
Also known as: 'Asy' to his friends
Education and qualifications
| | |
| --- | --- |
| General education | Clifton College, Bristol, excelling at athletics; Caius College, Cambridge and St Thomas's Hospital |
| Primary medical qualification(s) | MBBCh, Cambridge, 1926 |
| Initial Fellowship and type | FFARCS by Election |
| Year of Fellowship | 1953 |
| Other qualification(s) | MD, Cambridge, 1934; DA(RCP&S), 1940 |
Professional life and career
Postgraduate career
After qualifying became a general practitioner in St. John's Wood, London with clinical assistantships in paediatrics, orthopaedics and ENT at St Thomas's Hospital. His involvement with anaesthesia started with a part time dental appointment at the Hospital for Sick Children, Great Ormond Street. On the outbreak of WW2 he became a full time anaesthetist with the Emergency Medical Service, first at Great Ormond Hospital and then at Leavesden Hospital. Appointed consultant anaesthetist to Great Ormond Street in 1946 he also worked at Atkinson Morley Hospital (from 1945) and and the National Hospital, Queen's Square (from 1948), retiring from NHS in 1963.
Professional interests and activities
Main interests paediatric (working with Sir Denis Browne) with a special interest in neurosurgical anaesthesia which started at Leavesden Hospital. Contributed to the development of hypotensive anaesthesia using hexamethonium and procainamide.
Other biographical information
Married with one daughter. After his retirement he devoted himself to his family and was skilled at 'do-it-yourself'.
Author and Sources
Author: Professor David Hatch and Dr William J Glover
Sources and any other comments: Obituaries. BMJ 1972; 4: 369 & The Lancet 1972; 300: 885 | Personal recollections of WJG.