Dr Beverley Charles Leech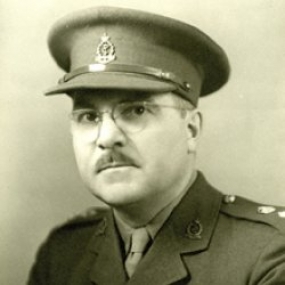 Dr Beverley Charles Leech
09/05/1898 to 10/03/1960
Place of birth: Brandon, Manitoba
Nationality: Canadian
CRN: 715512
Also known as: Bev
Education and qualifications
| | |
| --- | --- |
| General education | Schools in Brandon, Manitoba and Regina, Saskatchewan; McGill University (after WW1 service) |
| Primary medical qualification(s) | MDCM, McGill University, 1925 |
| Initial Fellowship and type | FFARCS by Election |
| Year of Fellowship | 1949 |
| Other qualification(s) | |
Professional life and career
Postgraduate career
After leaving school Leech served as an infantry Lieutenant during WW1 before studying medicine in Montreal. He then returned to Regina in 1925 and in 1929 became Director of Anaesthesia at the General Hospital. He joined the services again during WW2, commanding first a Field Ambulance, then a General Hospital, and finally becoming Assistant Director Medical Services of the 2nd Canadian Division. After the war he returned to Regina, but in 1956 moved to Nanaimo, British Columbia, where he worked until his death.
Professional interests and activities
Leech was primarily a clinical anaesthetist who was concerned (in the pre-relaxant era) with the provision of sound anaesthesia, favouring (and publishing defences of) procaine for spinal anaesthesia and cyclopropane for general anaesthesia. At a time when tracheal intubation was uncommon he developed a device, the "pharyngeal bulb gas airway", really a predecessor of the laryngeal mask airway, that produced the gas tight seal required for use of a closed circuit breathing system. Calling on the administrative ability shown in his WW2 service, he also worked hard, to ensure that standards of anaesthesia throughout Saskatchewan were as high as in the major centres. Leech was the first anaesthetist in Saskatchewan to become a certificant (1943) of the RCPC, received both the OBE and the Legion d'Honneur for his war service, and was President of the Canadian Society for 1948-9.
Author and Sources
Author: Prof Tony Wildsmith
Sources and any other comments: Shepherd DAE. History of Canadian Anaesthesia: Beverley Charles Leech 1898-1960. Canad J Anaes 1990; 37: 689 (see also www.archives.mcgill.ca). I thank Prof Brendan Finucane for his help. Image courtesy of the Wood Library-Museum of Anesthesiology, Schaumburg, IL, USA.
Dr Beverley Charles Leech