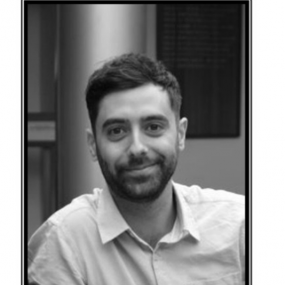 Dr Araz Pourkashanian was part of the St Georges School of Anaesthesia and in his final Specialty Training year 7 post at St Peter's Hospital, Surrey. He had just been awarded an outcome 6 at his final ARCP (Annual Review of Competence Progression) and was due to take up a substantive consultant post at Frimley Park Hospital in January 2021. He died suddenly on 23rd November 2020 from an intracranial haemorrhage.​
Araz was born in Manchester and grew up in Cheshire. He attended Manchester Grammar School for boys (1997-2004) where he excelled academically and secured a place at Birmingham University Medical School (2004-2009). Following his foundation posts, he began his career in anaesthesia and completed the ACCS (Acute Care Common Stem) training programme, rotating through New Cross Hospital, Wolverhampton and Good Hope Hospital, Birmingham.
He moved to London in 2014 after successfully gaining his NTN (national training number) and joined the St Georges School of Anaesthesia. He worked at Frimley, St Georges, Croydon and Ashford and St Peters NHS trusts during his specialist training. He became a Fellow of the Royal College of Anaesthetists in 2016. His special interest was regional anaesthesia, completing a fellowship at Frimley Park where he gained his EDRA (European Diploma in Regional Anaesthesia) qualification, and developed an ad-hoc acute pain block service. He had a keen interest in acute pain management and catheter techniques, presenting his academic work internationally, and publishing several articles including a peer reviewed educational article on the evidence behind erector spinae techniques.
Araz was a hugely popular trainee, much loved by friends and colleagues of the anaesthetic departments of South London and Surrey . He was a remarkable and dedicated anaesthetist whose humility didn't allow him to fully appreciate just how good he was. He will be remembered as a warm, gentle, gracious, caring, modest, kind and honest person, with an unforgettable smile and a mischievous sense of fun. These are just some of the words used in the hundreds of tributes paid to him and even in death, he has given hope to others. Araz was on the organ donation register and has helped save the lives of five people.
Araz loved sport, he was a keen road cyclist, taking part in fundraising events such as Extreme 3 Triathlon and Etape Mercia. He was an avid Manchester United fan, holding a season ticket for more than 15 years. His greatest love though, was his family. He was an amazing father, husband, son, brother and friend and leaves behind his wife Lucy, and their two young boys Casper and Leo.
Rest in peace Araz, we will all desperately miss you.
Vanessa Cowie
Photo courtesy of a colleague at Frimley Park Hospital
The team at Frimley have set up a memorial fund:
https://www.justgiving.com/crowdfunding/araz-pourkashanian-in-memoriam