Taking pride: The journey to building a successful LGBTQ+ network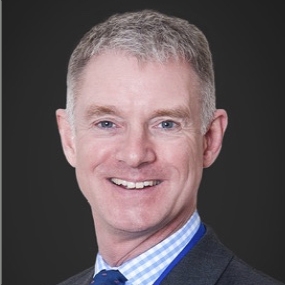 Dr Andrew Hartle
Dr Andrew Hartle was the first out gay President of the Association of Anaesthetists, and co-opted member of the RCoA Council. Here, he writes about his experiences co-chairing his Trust's LGBTQ+ network, its challenges and his hopes for the future.
I've been co-chair of the LGBTQ+ Network at Imperial College Healthcare NHS Trust for two years. Imperial was relatively late to the 'pride party' in terms of setting up a formal LGBTQ+ network (some networks have been around for over a decade). Most large Trusts and Boards have a number of staff networks, and their purpose and remits can vary. Most networks are established in response to internal and external staff diversity targets, for example addressing the gender pay gap, improving recruitment and promotion of BAME staff or ensuring that an organisation is accessible for staff with disabilities. These are referred to as minority groups, but women make up the majority of the NHS workforce, and BAME staff are the majority in many Trusts.
During my lifetime, most of the legal prohibitions on being LGBTQ+ have been lifted but, although we're no longer legally disadvantaged, we are a long way from actual equality. LGBTQ+ staff are protected under the Equality Act, but sexual orientation and gender identity/reassignment aren't always visible. We know from history that, without data and without asking difficult questions, we won't know whether there's discrimination or not. It is therefore very important to me that, on a local level, my network collects accurate information about our staff profile.
Historically, our specialty has broken more pink ceilings than most, and that matches my personal experience. I know this is an ambition shared with the College, which has already spoken up about a failure of, for example ACCEA (Advisory Committee on Clinical Excellence Awards) to meet its obligations under the Equality Act, and I look forward to seeing the results of this work.
Staff networks rely on passionate volunteers. Network responsibilities are in addition to our often demanding jobs. During the COVID-19 surges, these voluntary roles inevitably got less attention. My co-chairs took on significant extra clinical work during the surges, meaning our LGBTQ+ network lost some momentum.
The impact of this must not be taken for granted. During the pandemic lockdowns, people from all minorities suffered disproportionately. Networks such as ours come under more pressure just at the time the group's volunteers have less time to commit.
Another challenge we faced during lockdown was how to continue our social meetups. Our early successes had been coffee and cake mornings. One reason that these mornings were successful was because people could drop in and out casually. They could speak to one person or a group – they had choice. Lockdown and social distancing made it very difficult to provide our members with a safe space to connect. Our members were definitely experiencing video call fatigue, which meant there wasn't much enthusiasm for moving our coffee and cake mornings online. Taking this online somehow formalised the meetings, which changed its purpose.
On the back of all this unintended disruption, even at the peak of the second COVID-19 surge, we marked LGBT History Month in February with some online blog activity and, as we approached Pride month this year, the network wanted to get back to business as usual. As well as flying flags, we've put on a programme of online events, consultation exercises and messaging. We're also making a staff Pride film. The Medical Libraries have highlighted a Pride 'e-book of the week', we used our internal and external websites to promote blogs from LGBTQ+ staff and we committed to marching in the London Pride parade for the third time. We hope this will go ahead safely in September.
We first flew Pride flags in our buildings three years ago. Before then, we didn't mark the month in any visible way across the organisation. Since the flags went up, we've seen a huge and positive change; I personally received a wave of wonderful messages, texts and emails from staff who were really excited to see the equality flags for the first time.
More broadly, many felt, for the first time, that the Trust recognised that they existed. This warm feeling of visibility and acceptance was infectious, and we have flown the flags ever since, also changing the flags from the original six stripe flag to the 'Philadelphia' and 'Progress' flags to better reflect diversity within our network (except this year – when we lost the flags, and at short notice went back to the original - we can and will do better). We also introduced the Rainbow NHS Badge Scheme to the Trust. Over 2,000 members of staff signed up to the principles of the rainbow scheme and they wear them with pride every day.
Our Chief Executive is hugely encouraging and supportive of our network. He has put EDI (Equality, Diversity and Inclusion) at the top of his agenda for the Trust's future vision, and personally chairs the Trust Equality Diversity and Inclusion Committee, which sets the tone across the organisation.
Despite these successes at Imperial, we don't have a comprehensive picture of how many members of our staff identify as part of the LGBTQ+ community. In a recent staff survey, about 10 per cent of respondents described themselves as LGBTQ+ or 'rather not say', and this group also had some of the worse experience scores.
More recently, I've managed to contact and learn from other neighbour networks across North West and Central London. We all deal with similar challenges, for example identifying what the network is there for and who runs it.
Some members of LGBTQ+ networks want a social network, others want a buddy or mentor. Some want to see the network play a leading advocacy role. It is difficult to wear all hats.
Bringing more visibility to the network means you have to be extremely careful not to out individuals. Our LGBTQ+ networks are made up of staff from all backgrounds, and others may be away from home for the first time. It is paramount that we are able to keep our members safe and provide the discreet support for them that they want and need.
Like many organisations, diversity decreases towards the top of my Trust, so people with the time to dedicate to chairing a network may not be representative of that group. For example, I'm a white, cis male, 50+ consultant, and it may be easier for me to take on a voluntary role in an LGBTQ+ network and speak for our network as co-chair, but I know I do not look like or represent the views of all of our members. Network members may be women, disabled or BAME, or all of them, as well as LGBTQ+, and each of these is additive when it comes to being disadvantaged.
Our network is in its infancy and we are far from perfect, but we're here and we've started our journey; we know what we need to improve and I am excited to be part of something that's really taking off and having an impact. I'll be even more excited if the day comes that we're not needed.
Have a great Pride Month!
Dr Andrew Hartle