Being an SAS doctor a boon and not a bane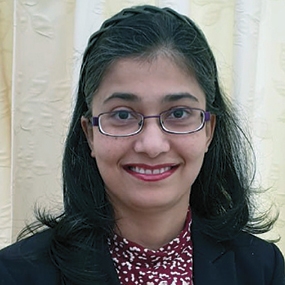 Dr Ashwini Keshkamat
RCoA Council member, Dr Ashwini Keshkamat, discusses her role as an SAS doctor and the importance of representing her peers by sitting on the RCoA Council.
The South Asian heritage month celebratory events across the country end today. Though the launch in the UK was in 2019, there are decades of intertwined histories between the UK and South Asian communities. It was heart-warming to read the thoughts and experiences shared by my Colleague at Council to commemorate South Asian culture.
The College is working on initiatives to achieve positive change in its approach to EDI in key areas including capture and analysis of demographic data as well as culture and governance. SAS doctors, most being international medical graduates come from diverse cultural backgrounds of which South Asians form a significant proportion.
Being brought up in a different culture and embracing a new one can take a while. It does influence perspectives and attitudes towards work and life. It reminds me of the Sanskrit verse: "Saha Naav avatu, Saha Nau Bhunaktu" meaning "Together, may we move forwards! Together, may we relish and prosper." This has helped me in continued learning and embracing new things with an open mind.
I remember writing back in April 2021 about moving past comfort zones and embracing new opportunities. I have been asked time and again by colleagues and friends about why I am not ready to shun the comfort zones of being an SAS doctor. I strongly believe that being in the right place at the right time yields the right results and I am an SAS doctor by choice. It may not be the first career choice for many, yet we know that SAS doctors comprise a significant 23 per cent of the workforce.
When asked by the College to write about my experiences and why one would consider being an SAS doctor as a career pathway, it made me reflect on the various opportunities it has brought to my professional life allowing me to strike a balance with my roles as a mother, wife and pursuit of other interests.
For international medical graduates, the training and experience in the specialty can be variable and SAS contracts offer the best initial step for the career pathway in the UK. These posts are permanent, on national terms and conditions with recognised career progression and pay thresholds. Unlike the training programme, they provide geographical stability specially for young families and the possibility of regular hours and sessions.
For decades, the SAS grade has often been mistaken as a career compromise for doctors who have failed to get into training programmes or not enjoyed success in exams. I believe, it's time that this perspective is changed not only within the specialty but also amongst the broader medical fraternity. We know that SAS doctors with appropriate experience are autonomous practitioners and are educators too. I am fortunate to have met a few who have been and continue to be in leadership roles, helping to inspire others.
I am indeed delighted and humbled to know that the leadership at the College acknowledges this important section of the workforce and SAS representation is sought in all areas of work at the College. If we, SAS doctors, want to be seen, heard and recognised, I believe it is important to show the commitment and make a difference. Nominating yourself when nominations open for College Council on 22 September is an opportunity to make a difference and we would love to welcome enthusiastic and self-motivated colleagues to join us at the College.
The GPAS Good department chapter emphasises the need for clinical anaesthetic leads to support SAS and LEDs to achieve progression. For those SAS doctors aspiring to be on the specialist register, the new curriculum brings promising changes. The transition period may have its own challenges however and the College is committed to engaging and supporting its members.
At the end of the day, I believe, it's whether you see the glass half empty or half full that makes the difference. For me, being a SAS doctor has been a boon!
If you would like more details on how to stand for College Council, visit the Election to RCoA Council page on our website.