Your feedback so far
What we heard at Let's Talk 14 June 2022
More than 80 members and fellows registered for our Let's Talk member engagement Zoom session in June, and on the night we had 34 people involved in the discussions.
We discussed the issue of being a Charity and what this entails. As a Charity we are bound by the requirements of the Charity Commission, and we have Charitable objectives (see here to read them on the Charity Commission website).
We have a Board of Trustees and a Council – two groups of equal stature but with different responsibilities and focus areas. However, in practice, these two groups have a large overlap with all 29 elected members also serving on the Board (this is one of the areas we wish to address – we want to have representation from key groups on the Board but also have it small enough to have the right level of scrutiny).
Representation on Board and Council was discussed in depth, including who needed to be represented where and the expectations on time for members of either group. We heard support and advocacy on behalf of a number of specialty groups, including anaesthetists in training, SAS doctors and anaesthesia associates.
We asked those attending to tell us, anonymously, what they wanted us to remember from the session: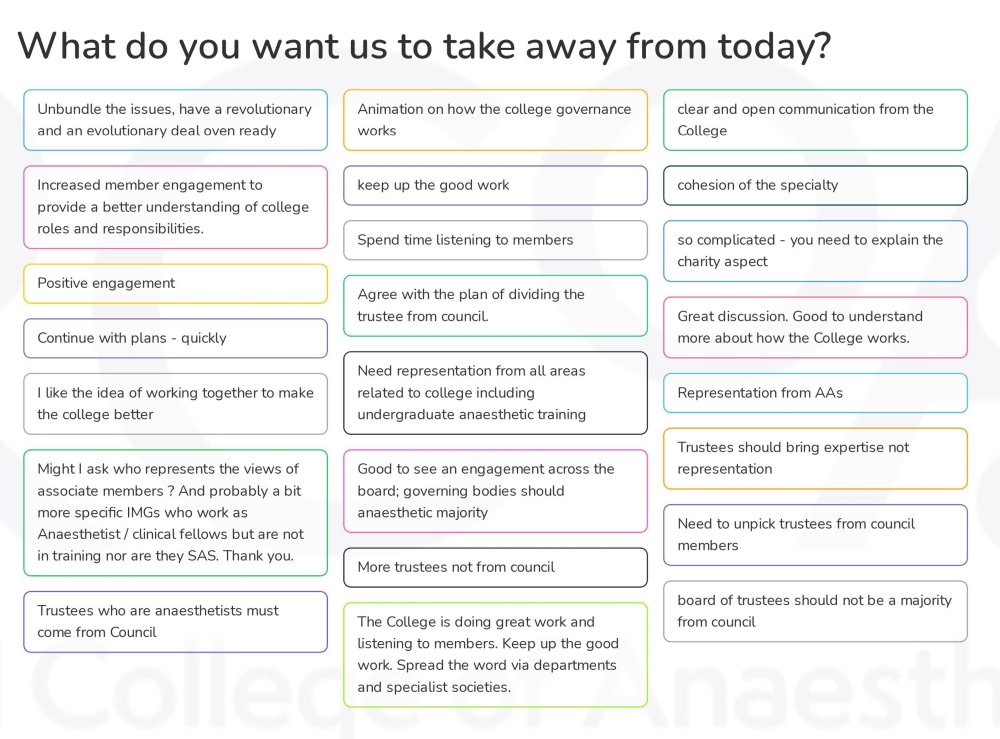 We spoke also about the previous EGM where we had put a single proposal to change our structures and give more power to members. We heard that having a single proposal was not popular, and you advised us to have options or incremental positions. This may not be possible in practice as everything is so interlinked – however, we take the overall message of this as that we need to discuss each point in turn and to make sure interrelated aspects are aligned and balanced appropriately and that you have had a chance to input into all the aspects.
Read more here:
Overview - how the College is regulated and managed