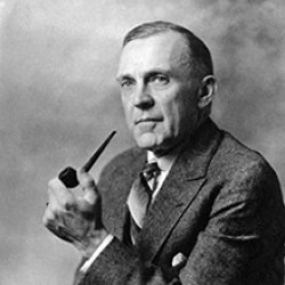 Prof Ralph Milton Waters
09/10/1883 to 19/12/1979
Place of birth: North Bloomfield, Ohio
Nationality: American
CRN: 715480
Also known as: The Chief
Education and qualifications
| | |
| --- | --- |
| General education | Grand River Institute, Austinburg, Ohio; Adelbert College, Western Reserve University, Cleveland, Ohio; Western Reserve University Medical School. |
| Primary medical qualification(s) | MD, Western Reserve University, 1912. |
| Initial Fellowship and type | Honorary FFARCS |
| Year of Fellowship | 1948 |
| Other qualification(s) | BA, Western Reserve University, 1907. |
Professional life and career
Postgraduate career
In 1913, after an internship at the German Hospital in Cleveland, Waters took up general practice with an interest in obstetrics in Sioux City, Iowa. General practitioners often operated on their own patients with a colleague administering the anaesthetic. However, Waters became progressively more involved with the administration of anaesthetics, this partially a consequence of interest sparked by undergraduate exposure to dental use of nitrous oxide. With growing experience, reading about the work of others and visits to other centres (notably to McKesson in Toledo), by 1915 anaesthesia was occupying most of his time. Waters career was interrupted by seemingly unhappy service in the Iowa National Guard during 1916, and at the end of that year he decided to specialise in anaesthesia. In 1924 Waters accepted an invitation to take over an anaesthetist's practice in Kansas City , Missouri, but after three clinically busy years he received another invitation.
This one was to become Assistant Professor of Surgery (Anaesthesia) in the developing medical school at the new State Hospital in Madison, Wisconsin. The far-sighted decision behind his appointment meant that Waters was the first anaesthetist in the world to be appointed to a professorial level post, and he remained in Madison for the rest of his career. During that time the centre became world-famous for research and training in anaesthesia, attracting visitors and trainees from many countries, not just the USA.
Professional interests and activities
Waters started his research in anaesthesia almost as soon as he had become a full-time practitioner, working on carbon dioxide absorption and devising the eponymous cannister while in Sioux City, but his very first (and telling) publication was entitled "Why the Professional Anaesthetist". His (still relevant) view was that the way to improve the status of the specialty was, in essence, to use clinical observation and basic science research to improve techniques and train others. Waters also thought about the delivery of anaesthesia services, developing successsful 'day-surgery' units in both Sioux City and Kansas City. At an early stage, he started to visit other physicians and dentists interested in anaesthesia and its science, developing an informal network to share knowledge (and friendship). The full extent of his research and influence while in Madison is too wide to describe here, but his career is well documented elsewhere.
However, mention must be made of several aspects: first, his focus on record keeping and the need to discuss complications openly in an educational forum; second, the early evaluations of cyclopropane and trichloroethylene, and re-valuation of chloroform when administered by 'modern' methods; and third, his interest in, and teaching of, the history of anaesthesia - John Snow's work was known only vaguely in the UK until Waters visited in 1936. He led several organisations: President of the American Boad of Anesthesiology (1938), Chairman of the Section on Anesthesia of the American Medical Association (1940), wartime Chairman of the Sub-Committee of the National Research Council and President of the American Society of Anesthesiologists (1945). Not surprisingly, he received many honours besides our Fellowship, notably: Honorary Membership of the Section of Anaesthetics of the Royal Society of Medicine (1936) and its Henry Hill Hickman Medal (1944), the Distinguished Service Award of the American Society of Anesthesiologists (1946) and Sweden's Order of Vasa (1947).
Other biographical information
Waters influence in the USA was immense, and a large proportion of academic anesthesiologists were trained by him or those who he trained. This has been described as the 'Waters Tree', and the members of the group as the 'Aqualumni'! On the world stage, he was one of only a handful of mid-twentieth century clinicians spread around the world who were responsible for the development of the specialty, but only one was even close to being his peer: Robert Macintosh of Oxford. Both gave up lucrative private practices to focus on research and training to the benefit of all.
Author and Sources
Author: Professor Tony Wildsmith
Sources and any other comments: Waters has been the subject of much interest and publication, but this article has drawn mainly on material available on the websites of his former department (www.anesthesia.wisc.edu) and the Wood Library-Museum of Anesthesiology (www.woodlibrarymuseum.org). A very personal biography was written (with input from the subject) by his colleague, Noel Gillespie (Brit J Anaesth 1949; 21: 197-214). I would thank Dr Mark Schroeder for his kind assistance, and for providing the photograph of Waters which appears courtesy of the University of Wisconsin Department of Anesthesiology.