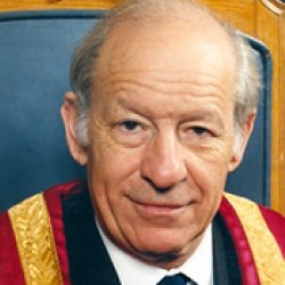 Prof Michael Rosen Hon FFARCS FRCOG FRCS FFARCSIHon
17/10/1927 to 02/05/2018
Place of birth: Dundee, Scotland
Nationality: British
CRN: 516125
Professor, 1983
Education and qualifications
| | |
| --- | --- |
| General education | High School of Dundee; Queen's College (Dundee), University of St Andrews |
| Primary medical qualification(s) | MBChB, St Andrews, 1949 |
| Initial Fellowship and type | FFARCS by Examination |
| Year of Fellowship | 1957 |
| Other qualification(s) | |
Professional life and career
Postgraduate career
Details of his very early career are not known, and the sequence of his first two anaesthetic appointments (SHO, St Luke's Hospital, Bradford and junior specialist as a Captain in the RAMC) unclear. He was next a registrar at the Royal Victoria Hospital, Newcastle-upon-Tyne, and completed his training as a senior registrar in Cardiff from 1957. This period included a year in Cleveland, Ohio, USA with Dr Robert Hingson, one of the earliest to specialise in obstetric anaesthesia. In 1961 he was appointed as a consultant in Cardiff, a post he held until retirement, although he was awarded a personal chair by the University of Cardiff in 1983.
Professional interests and activities
Primarily an obstetric anaesthetist, one of the first in the UK, he fought tirelessly to improve the safety & efficacy of the anaesthetic & analgesic techniques used in this branch of practice. Two components of this work had major impact in other areas: provision of adequate suction apparatus to remove material from the patient's airway; and development of the technique of 'patient controlled analgesia' allowing personal titration of pain relief after surgery. He involved & enthused many trainees from both home & overseas in his clinical & research work, and did not stop in retirement, then working to achieve standards of pain relief for babies undergoing ritual circumcision.
He also made huge contributions to the organisations of the specialty, working to improve the activies, standing (public & professional), and the physical homes of both the Association of Anaesthetists of GB&I (President 1986-8) and the then Faculty of Anaesthetists. The latter achieved Collegiate status while he was Dean/President (1988-91) and received the Royal Warrant shortly after his term. Not the least of his achievements was establishing, in consultation with a psychiatrist colleague, Prof Kenneth Rawnsley: the 'Sick Doctor' Scheme.
His work was recognised in many ways: Fellowships (FRCOG 1989, FFARCSIHon 1990, FRCS 1992), Gold Medals (OAA 1986, AAGBI 1993), an honorary degree (LLD, 1996) from Dundee (his home-town University), many honorary memberships and eponymous lectureships, and from the Crown, a CBE (1988).
Other biographical information
His professional activities occupied most of his time, but he kept himself physically fit by regular visits to a gym. He was very dependent on his wife, Sally, with whom he had three children, Timothy, Amanda & Mark. His Jewish faith was important to him, and his Scottish origins were reflected in the large whisky used to break his Yom Kippur fast!
Author and Sources
Author: Prof Tony Wildsmith
Sources and any other comments: Obituary. The Times, 6th June, 2018 | Medical Directory | Contribution from Dr W R MacRae