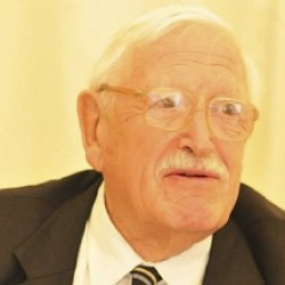 Dr John Godfrey Fairer TD BA LLB MBChB FFARCS MRCS LRCP LMSSA DA, Barrister at Law
20/03/1926 to 27/06/2018
Place of birth: Leicester, England
Nationality: British
CRN: 500342
Also known as: Dickie
Education and qualifications
| | |
| --- | --- |
| General education | Wyggeston Grammar School, Leicester; Worksop College; King's College, London; Charing Cross Hospital Medical School |
| Primary medical qualification(s) | MRCS LRCP, 1949 |
| Initial Fellowship and type | FFARCS by Election |
| Year of Fellowship | 1954 |
| Other qualification(s) | MBBS, London, 1955 |
Professional life and career
Postgraduate career
After being house surgeon at the Prince of Wales Hospital, Plymouth, Dickie was resident anaesthetist at Charing Cross Hospital and then junior registrar at the Royal Devon & Exeter Hospital, Plymouth. In 1953 he returned to Charing Cross as registrar, then senior registrar, before being appointed a consultant there in 1956, also working at the Royal National Orthopaedic, West London & Fulham Hospitals. He was twice seconded by the Ministry of Overseas Development, first (1963-4) to Baghdad as professor of anaesthesia to help with teaching young anaesthetists, second (1966-8) to New Mulago Hosp, Kampala, Uganda. He returned to his London appointments on each occasion, but resigned from the NHS in 1973, thereafter lived in Cyprus.
Dickie's National Service was in the RN as medical officer of HMS Cossack in Korea. He also had a long career in the TA RAMC (TD 1974), serving at 167 City of London Field Ambulance, and later at 257 (S) General Hospital, Duke of York HQ, Chelsea. The TA took him on postings to many counrtries, and led to two appointments as civilian consultant to the army in Germany: BMH Iserlohn (1976-9) and BMH Munster (1984-9). He was also medical director, Royal Masonic Hospital, London (1980-1), part of the commissioning team for Al-Zarah Hospital, UAE (1981-3), and undertook many locum appointments around the World. He finally retired in 1989, staying in Cyprus, but later dividing his time between France & Devon.
Professional interests and activities
An early clinical interest was 'hibernation' anaesthesia, but he soon started a life-long study of the causes of mortality in anaesthetists, amassing a valuable collection of death certificates, obituaries and other records, all of which have generously been given to the College. Another interest was the history of anaesthesia, and Dickie provided & edited the historical & biographical notes for a number of editions of Bailey & Love's 'Short Practice of Surgery'. He was awarded the Pask Certificate of Honour by AAGBI in 2003.
Other biographical information
Of a medical family, his father was Medical Officer of Health for Leicestershire. Married three times, Dickie had six children, seven grandchildren and four great-grandchildren to whome he was known affectionately as Grandpa-Great! His range of non-medical interests was wide: the law (admitted Inner Temple 1957, called to the Bar 1969); history of art & literature (subjects of his BA); Freemasonry, holding high office in a number of Orders; member of the Savage Club; and, in his younger days, competing in the Monte Carlo & other Rallies and acquiring a private pilot's licence. After giving up car-rallying he took up off-shore sailing. Throughout his life Dickie enjoyed travelling whenever possible, and had a love of poetry & literature.
Author and Sources
Author: Prof Tony Wildsmith, with much input from Dickie's family.
Sources and any other comments: Obituary. BMJ 2018; 362: 238 [2] Medical Directory [3] Archives of the Inner Temple [4] His son, Richard, kindly provided the photograph.