Obituary - Professor Thomas Healy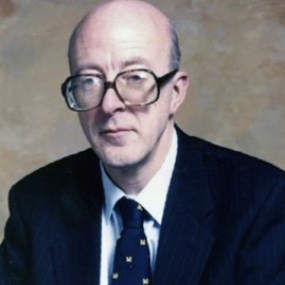 Professor ('Prof') Thomas Healy who died on 3 November 2018 aged 82, pioneered an accurate method to measure the depth of anaesthesia.
Until the late 1980s, little was understood of the way in which anaesthesia operated or how its depth could be measured. With no accurate way to measure the depth of anaesthesia, some patients, although appearing to be sufficiently anaesthetised, were in fact conscious and experiencing the terrible trauma and significant pain of surgery. Several research teams around the world had attempted to find a workable method of measuring the depth of anaesthesia, but Professor Healy and his small research team at the University of Manchester was the first to discover an accurate method of confirming that patients were sufficiently anaesthetised.
Professor Healy discovered that the degree of respiratory sinus arrythmia (the variation in heart rate that occurs during breathing) was affected by the depth of anaesthesia. Together with his colleague, Dr Chris Pomfrett, he created and tested the first machine which successfully measured the depth of anaesthesia accurately. This machine was subsequently commercialised by the University of Manchester.
Thomas Edward John Healy was born to Thomas and Gladys May Healy on 11 December 1935.
Educated at St Brendan's College, Bristol by the Irish Christian Brothers, he read medicine at Guy's Hospital Medical School, London University.
Intervening National Service was served in Germany with the Royal Engineers, a time he enlivened with the help of his quickly acquired German, by his friendships with local people and extended cycle rides through many parts of the country.
Graduating with a first class honours in anatomy in 1961 and an MB BS in 1964, he specialised in anaesthesia and worked at the Clinical Investigation Unit in Birmingham with Dr Michael Vickers. It was there that his interest in anaesthetic research emerged with his description of a diazepam technique providing tranquil conditions without disturbance of vital signs, published in the journal Anaesthesia in 1969, the first of his career total of over two hundred scientific papers. In 1971 he was appointed consultant anaesthetist in charge of the intensive care unit at Nottingham General Hospital, subsequently becoming reader in anaesthesia at the University of Nottingham in 1974. He was responsible for the commissioning of both the intensive care unit and the department of anaesthetic studies. Completion of his doctorate in 1975, combined with his research work led to his appointment as professor of anaesthesia at the University of Manchester in 1981 and the award of an MSc in 1982. Under his vigorous leadership at Manchester, the department and its national and international reputation burgeoned as, under his direction, did the wealth and scope of its research.
He was a member of Council of the College, an examiner and a member of the professional standards committee where he insisted on rigorous training programmes for junior anaesthetists and strove always to protect patients from malpractice. He was president of the anaesthesia section of the Royal Society of Medicine from 1996–1997, editor-in-chief of the European Journal of Anaesthesiology, and a member of the editorial boards of several additional medical journals. In the latter part of his career, he acted as an expert witness in criminal and civil trials.
He lectured internationally on patient airway support and the measuring of the depth of anaesthesia throughout Europe, the Middle East and Asia and was a visiting professor at Michigan, Philadelphia, Arizona and Vancouver Universities.
Amongst his numerous publications he co-edited the 6th and 7th editions of the standard anaesthetic textbook Wylie and Churchill-Davidson's A Practice of Anaesthesia, with the 6th Edition being awarded 'the best textbook on a surgical subject of 1995–1996' by the British Medical Association.
In 1998 he completed an LLM in Medical Ethics at University College Cardiff.
He married Lesley Sheppard, in 1966. She and their four children survive him.
Mrs Lesley Healy