Obituary - Dr Krystyna Maria Lubomirska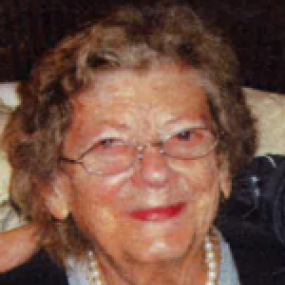 Dr Krystyna Maria Lubomirska
Dr Krystyna Lubomirska died after a short illness in hospital, aged 91. Mrs Murphie, a retired Consultant Anaesthetist, is survived by her daughter, Helen, and grandson, Charles.
Dr Lubomirska was born on 11 June 1925 in Warsaw, Poland. She was the daughter of Prince Hieronim Eugeniusz Lubomirski - the eldest son of Stefan Lubomirski, proprietor of the Kruszyna estate - and Maria Konstancja Lubomirska (Dzierzanowska). They resided in homes in Warsaw and at Kruszyna Palace.
Dr Lubomirska led a relatively solitary early life. She was home schooled by a governess and read classic English novels to ignite her imagination. After the death of her father, she moved to an apartment in Warsaw with her mother and brother - Hieronim. After the outbreak of the second world war, she studied medicine and was admitted to Warsaw's Poznia University. The young student also undertook voluntary nursing at the Knights of Malta Hospital in Warsaw where she was expected to treat German soldiers injured in battle. Because of her compassion and dedication to the principles of medicine she gave the best possible care and treatment to such soldiers.
Dr Lubomirska's mother Princess Lubomirska played an active role in the Polish underground army and risked death by keeping escaped prisoners of war in their family home. The family also took part in the Warsaw Uprising during which Warsaw was destroyed. On July 19th 1944 Hieronim Lubomirksi was killed shortly before his 17th birthday whilst trying to liberate prisoners of war with his fellow resistance fighters from Pawiak prison. The raid went badly wrong and almost all of the young fighters were gunned down by the Nazis.
Dr Lubomirska came close to death on a number of occasions during the war. On one occasion, she and other civilians were frog-marched by the German army to a clearing and lined up against a wall. With her eyes closed and arms behind her back, she expected to be shot. The Polish underground army appeared at the last moment, and started firing at the Germans, and she and others managed to escape. Throughout this ordeal her faith did not waiver and she remained convinced if she had been killed, that she would be reunited with her brother, Hieronim. On another occasion when she remonstrated with a soldier who killed a crying child with a riffle butt in front of her , she was told that if she did not shut up he would kill her too. The German soldier killed the child's mother a few minutes later.
She also escaped death when she was stopped by a German soldier whilst she was secretly transporting weapons at the bottom of a wooden vegetable cart to the Polish underground army. She later said that because she spoke perfect German and was blond, that she managed to pass through the check quickly before the soldier gathered his wits.
The Lubomirska home in Warsaw was bombed and destroyed in August 1944 and the family lost all their possessions. They were sent to a German concentration camp. They were given some gold and US dollars by a family member to bribe German soldiers and they managed to escape and settle in Cracow where the young doctor continued with her pre clinical studies.
In 1946, the family were tipped off by Polish underground army that the new communist regime intended to deport them to Siberia as western spies. Dr Lubomirksa, her mother, and step father, Zdzislaw, travelled first to Germany and then on to Italy where the young student worked as a welfare officer with the Polish Red Cross. This work led her to settle in Britain in October 1946. Dr Lubomirska continued her studies at Paderewski Hospital in Edinburgh which was a Polish medical school before being admitted to the Welsh National School of Medicine. In 1951 she graduated with MRCS and LRCP diplomas. Dr Lubomirska held various posts at the Royal Berkshire Hospital, the German Hospital in East London and St Leonard's Hospital in East London.
Dr Lubomirska passed her fellowship at the faculty of Anaesthetists. . She worked as an anaesthetist at Wanstead Hospital and various other hospitals, including East Ham Memorial and St Clements Hospital, part of the City and East London Hospital Authority before she retired in 1982. Dedicated to her patients, she was renowned for the excellent care she provided, and she campaigned for many years to improve treatment and care standards in NHS hospitals.
She married her husband Charles Ian Murphie, a Consultant Surgeon, on 5th August 1966 and gave birth to their daughter, Helen, in 1968. Mr Murphie died in 1971 aged 59.
Despite all her academic and professional achievements Dr Lubomirska expressed that the two things she was most proud of, and brought her the greatest happiness in life, were her daughter and grandson. A devout catholic who never lost her faith, Dr Lubomirska will be deeply missed by those who had the honour of knowing her. She will be remembered as a courageous, wise, devoted mother and grandmother.
Dr Lubomirska's funeral service will take place at 12.30pm on 28 February 2017 at St Andrew Bobola Roman Catholic Church in Hammersmith.