Obituary - Dr John Godfrey Fairer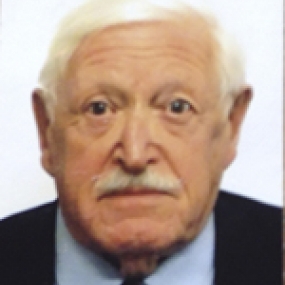 TD BA LLB MB.BS FRCA
Consultant Anaesthetist
Educated at the Wyggeston School, Leicester, Worksop and King's College, London
Qualified at Charing Cross Hospital, 1949
'Dickie' as he was universally known, was on holiday in the SW of England just after qualifying and was taken ill and was admitted to hospital. While recovering the consultant in charge offered him a job as his Houseman. So began a period of junior doctor posts in Devon and Cornwall. His two eldest children were born in Devon, and it was where he spent most of the last 18 years of his life.
Around 1956/1957 Dickie was appointed consultant anaesthetist to Charing Cross Hospital in London and worked there until he resigned in 1966 to travel the world. He subsequently worked in Uganda, Germany, Mauritius and the Seychelles, Hong Kong and the United Arab Emirates among others and was 17 years in Cyprus. After retirement he moved to France.
Voluntarily, and at his own expense, Dickie kept the archival records for the Royal College of Anaesthetists and was awarded the Pask Certificate of Honour for services to Anaesthesia in 2004.
He also wrote the historical footnotes to several editions of Bailey and Love's 'Short Practice of Surgery.'
Not many people knew that Dickie was a qualified Barrister of the Inner Temple and also had degrees from the Open University in the History of Art and English Literature. His phenomenal memory enabled him to quote historical facts and dates, and reams of poetry, at the drop of a hat and left one scouring one's own memory for answers to his 'Who wrote that?'
Never accept anything written at face value, he would say, but always verify facts from original sources.
Dickie had many other interests outside medicine. He served as a Major in the TA with 167 City of London Field Ambulance as far afield as the Sudan and the North cape of Norway. He was a Mason and held high office in Lodges in London, together with his two sons. He was also a founder member of a Lodge in Hamburg.
In his younger days Dickie was a keen rally driver and he took part as co-driver and navigator in several Monte Carlo Rallies. He also gained his pilot's licence to fly light aircraft.
He was a member of the Savage Club in London.
He will be remembered for his zest for life – good food and wine, travel, books, and music, and his generosity and kindness.
Dickie was married three times and leaves his wife, Margaret, six children, seven grandchildren, and four great grandchildren, and Joan, his loving companion and partner of the last 18 years of his life.
Joan F Robinson (Dr)