Browsealoud is assistive technology software. The software adds speech and reading tools to make the College website (including PDF documents) more accessible to people with additional accessibility needs and those with mild visual impairments.
Specific features include:
text-to-speech with choice of reading speeds and highlighters to enhance reading comprehension
on-screen text magnifier helps users with visual impairments
MP3 generator converts text to audio files for offline listening
screen mask blocks on-screen clutter, letting readers focus on text being read
webpage simplifier removes ads and other distracting content for easier reading
Browsealoud can be customised to users' own preference of colour, display and font size.
To access Browsealoud, click on the black and white headphone icon which can be found top right of each page. If a Cookie notice appears, click on the yes button to consent to the use of essential cookies in order for the software to work. You will then see the below toolbar with a set of icons showing the software features. Hover your cursor over each icon to see a short description of each one. You may also find the video below of use in explaining each of the features in more detail.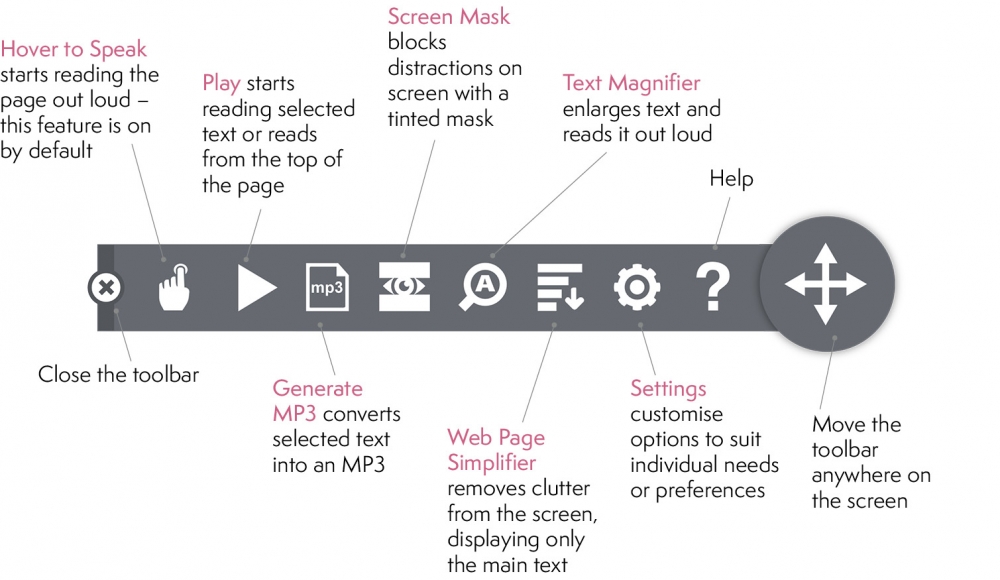 Translating our leaflets
The College does not currently offer translations of its patient information resources. A number of automated translation programmes and applications are available online or by changing the settings in browsers to different languages. For example, Google Translate is a free online language translation service that can translate text and documents into different languages. There are also alternatives if you are using a different browser which are listed below:
Internet Explorer browser (windows)
Translation through the Bing search engine.
Edge browser (windows)
Translation through the Microsoft Translator extension.
Firefox (windows and mac)
Translation through the Google Translator extension for Firefox.
The College does not endorse the use of Google Translate or any other translation software or extension. Any person or entity that relies on information obtained from these systems does so at their own risk. When a translation is complete, the user assumes the risk of any inaccuracies, errors or other problems encountered. The College is not responsible for any harm or injury that may possibly result from using Google Translate or any other automated translation software or extension.